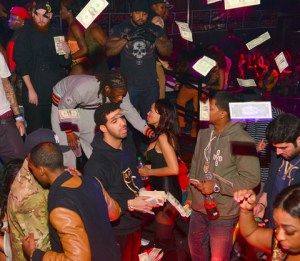 TMZ has written the only tax story you'll ever need to read. Rappers like The Game, Jim Jones, Bizzy Bone, and Daz Dillinger tell the site that they plan on trying to deduct expenses on their income tax filings for making it rain at strip clubs.
The logic is two-fold. First there's the write-off as an advertising/publicity expense:
The Game tells TMZ … making it rain "is good for business and promotion that comes with the lifestyle of a rapper.  They bump our music in a strip club, so me giving the girls a little bit of change to shake their ass — that comes with the business.  Everybody wins."
But if that doesn't sway the IRS, there's always the philanthropic angle:
Jones is not alone.  Bizzy Bone tells TMZ, "I'm giving charity to females who need their light bills paid.  So, of course, that's a write-off.  You write off your kids, don't you?"

Apparently, it's feasible. Lil' Flip told TMZ the government approved it as a deduction.
We're not watching another damn H&R Block commercial unless it features Drake unboxing $50k to support the "pole athletes" of Charlotte.