It was snowing, big wet chunks falling everywhere. Morningside Avenue and Morningside Drive are two different things, and this particular afternoon in February was a bad time to realize that, because they're separated by a park with a steep cliff that drops off sharply, and I was at the bottom of the cliff. I believe I already mentioned the snow. By the time I arrived at the writer Sam Lipsyte's apartment—40 minutes late—at the higher point of the journey, my clothes were soaked through with cold water and sweat and the sole of my right shoe had fallen off. Mr. Lipsyte answered the door looking surprised. I coughed twice.
This wasn't the graceful entrance I was hoping for, but there was something appropriate about it; Mr. Lipsyte's fiction is about lowered expectations. In his 2010 novel The Ask, the middle-aged protagonist, Milo Burke, a failed idealist and former artist who's recently been fired from his job asking people whose lives worked out better than his to donate money to a university, thinks to himself, "How little I resembled the man I figured for the secret chief of my several selves." The novel is a comedic masterpiece, but depending on where the reader is in life, it can seem much less funny.
His new book is a story collection called The Fun Parts. There's one about a struggling poet working as a part-time teacher who thinks she's finally found some luck when the father of one of her students—a poetry patron—asks her to be his daughter's personal caregiver; the job is great until the night she starts opening up to him and he begins pleasuring himself, reassuring her that he's still listening. Another character is a male doula—a "doulo"—who loses his already tenuous accreditation due to his tendency to demonstrate how to breast-feed using his own mouth. There's also an overweight child who starts smoking in order to stop snacking and grows dangerously envious of the other fat kid in his class, the one who has a gland problem and therefore an excuse for being the way he is.
There's an irony to Mr. Lipsyte's literature of failure. His excellent second novel Home Land, released in 2004, was rejected by 25 or 30 editors (it depends on whom you ask) before finally securing a place for Mr. Lipsyte as one of the great talents of American fiction. The more he writes, the more he cements that reputation.
Mr. Lipsyte, the son of two writers, grew up in New Jersey. His father is Robert Lipsyte, the New York Times sports columnist, and his mother wrote for local papers and authored a novel.
"I knew what a literary agent was before I knew all the positions in baseball," Mr. Lipsyte told me. "And I remember once when I was a kid, my dad came home and said, 'I fired my agent today.' I burst into tears, because I imagined now this agent would have no money and would be wandering around the streets and maybe be homeless. Then the system was explained to me."
Seeing his parents work demystified writing. ("My parents would say, 'Wow, it's pretty purple, your prose,'" he said. "And I was 11.") He saw it as a routine, a discipline. We were sitting in the book-lined room at the end of his apartment where he writes, and it was decidedly unromantic, the floor scattered with toys belonging to his two young children. Teaching writing full-time at Columbia (he's on leave, working on a new novel) and raising a family means he writes whenever he can get a spare hour or minute. But he wrote from an early age, in imitation of the stories he'd find in the stacks of New Yorker magazines around his parents' house, trying for "spare, haunting stories about divorced couples, which is tough when you're 15," he said. He went on to Brown, where he read a lot of Baudrillard and learned to "denounce everything that came before me."
"So I spent a few years after college just screaming into a microphone, not incoherently, but at a level below the guitar," he said. He was the screamer in a hardcore band in New York. They called themselves Dungbeetle. He's proud of the band, but he can't help but chuckle when he says the name. "We all went sort of knowing we'd fuck ourselves up on drugs and be irresponsible and that our band would probably fall apart." He paused. "And that's exactly what happened." He enjoyed his role as screamer because "I liked the idea that I couldn't really be understood."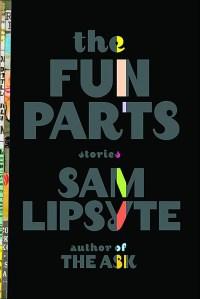 After the band dissolved, Mr. Lipsyte was trying to get clean. He was mostly unemployed, aside from a few odd jobs. His mother, who had divorced his father, was dying. While taking care of her, he began submitting stories to The Quarterly, a journal edited by Gordon Lish and distributed by Random House. Mr. Lish's rejection letter was several hundred words long and "very sympathetic," talking about how hard it is to write and offering a novelty, "Try again," a suggestion Mr. Lipsyte took at face value. Mr. Lish eventually published two of his stories and asked him to attend one of his legendary writing classes.
"Each class would be about six or seven hours," he said. Mr. Lipsyte's fellow students included Will Eno, Sam Michel, Noy Holland and Christine Schutt. "And [Mr. Lish] would talk. What you'd learn is that he was building this narrative out of several threads he had started earlier in the evening. Everything would build and unwind and crescendo. And then at the end of the class, he would ask people what they had. His assumption was that you were writing all the time and you'd just open your notebook and begin to read whatever you were working on. More often than not, he'd stop you. But then sometimes you'd have something good going, and you'd get to read it for a while. That was the moment of triumph in the class."
Mr. Lish remembers his student as promising, but with a lot to learn. "One read aloud so long as one was capable of reading aloud, given the quality of the work," he told me in a phone interview. "Sam was struggling, as was everybody else who was new to the setting. There were some that outpaced him, and then Sam progressively caught up, and as you know now, has outpaced a great multitude."
The class ended, Mr. Lipsyte's mother died, and his first book, a collection of stories called Venus Drive, was published by the small press Open City. At a reading, the editor Gerald Howard came up to him and said he wanted to see his novel. The Subject Steve, about a man, prodded by doctors, who is essentially dying from the illness of being alive, had the misfortune of being published by Broadway Books on September 11, 2001. Naturally, it was not widely read, though it did introduce Mr. Lipsyte's concept of the 21st Century Man, who appears in some form in all of his fiction. Typically a chronic masturbator, who has long ago given up on hope and, though desperate for its return, has resigned himself to mediocrity, he is thoroughly modern but would rather be anywhere but the present. In the new collection, he manifests as one of Mr. Lipsyte's more humorous losers, Oldcorn, from "Ode to Oldcorn," an American shot-
putter who won gold at the Mexico City Olympics and is the childhood hero of the story's narrator. Oldcorn, who has dropped out of society, shows up at the narrator's high school shot-put event—he's old friends with the team's coach—and is a disaster. He "was as huge as I'd always imagined, but bald, with muttonchops whiskers and a gut that split his belt. He wore cop shades, a T-shirt for a titty bar." One of the students asks him, "Do you want a beer?" "'I want all the beer in your town,' said Oldcorn. 'And I want teen poot, if that's available. Let's ride.'" Then he asks the high schoolers if they want some coke.
The 21st Century Man is much bleaker in "This Appointment Occurs in the Past," wherein a man, living (and sleeping) with his "ex-mother-in-law" in Michigan, travels to New York to see a college friend who called and said he was dying:
I'd booked a tiny room in the Hudson Lux in New York City, high up and hushed, a loneliness box of polished walnut and chrome. You could picture yourself dead of a hanging jackoff in such a room, your necktie living up to its name, your lubricated fingers curled stiff near your hips. I stretched out on the narrow bed, decided not to picture this. It wasn't the kind of thing I figured I'd ever try. Aficionados cited the bliss spasm caused by air loss, but I wondered if most got orgasmic on the gamble. Anyway, everything in my life was a gamble, a wager that somebody would see to my needs.
The friend, it turns out, is fine and also quite wealthy—a common foil for the 21st Century Man; the dying story was a ruse to recreate a college party that featured an aborted game involving a Pushkin-esque duel. The narrator goes through a lot of trouble only to get shot in the ass.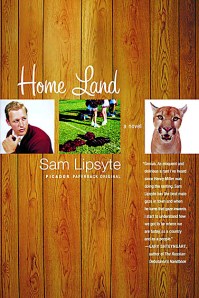 Mr. Lipsyte's second novel, Home Land, passed through the hands of dozens of American publishers before he eventually published it in England. People didn't get it. It got to be an inside joke among editors, who all had a Word document of the manuscript on their computers.
"People would read it and send it around and talk about it," said Lorin Stein, a former editor at FSG who finally published Home Land in paperback in America through a deal with Picador (it received nearly universal acclaim). He called it "the first e-book of my life. We talked about that book a lot. I remember going to a reading where Sam started reading from the first page and everyone started chanting along in unison. We used that book as Exhibit A for the stupidity of American publishing."
Home Land is written as a series of open letters to a New Jersey high school alumni newsletter by Lewis Miner—unaffectionately known as "Teabag," a guy who survives on odd jobs and occasional shifts at his father's banquet hall. His unimpressive life culminates at his high school reunion, which ends with the usual rejection, embarrassment and, finally, murder.
Mr. Lipsyte's own high school reunion, which he attended for the first time last year after avoiding it his entire adult life, didn't fare much better.
"You know, I worried, of course, that everybody had read the book and would judge, but of course no one even knew that I wrote books," he said. "I got a call from an old friend I hadn't kept in touch with who mentioned another old friend I hadn't kept in touch with. And he said, 'We're going. I know we haven't seen each other, but you should go. I'll drive.' And it turns out one of them is an optometrist right around here. I actually got glasses from him. He cut me a deal. But the other guy, the guy who was driving, took us there. I was having a fine time reconnecting with some important people in my life, and then this guy gets me sort of alone. And he just starts attacking. He's the only one who's read my work and he starts attacking me. And not for the portrayal of high school, just his literary opinion. He orchestrated this whole thing so he could have this big moment telling me to fuck off."
If Mr. Lipsyte's fiction is any kind of model, it must not have been a very satisfying confrontation for the old friend, the 21st Century Man of this scenario. It makes me think of a line from one of the new stories, the one about the failed poet. For 16 years, she's been pining after a man she met once at a party, one of her sister's friends, and imagining what she'd do if she ran into him. He was her fallback plan. When she does run into him, he says, after a brief conversation, "Whatever the opposite of compatible is, that's us." "Was it possible he could be a moron and still be her savior?" Mr. Lipsyte writes. Of course not, but you still have to live with the disappointment.
mmiller@observer.com