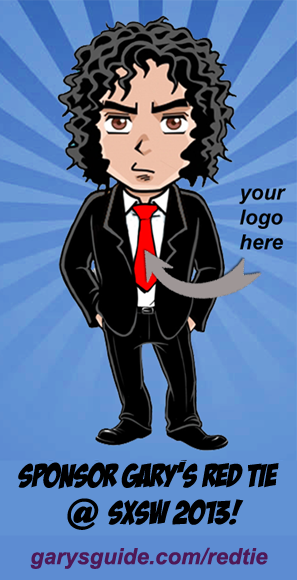 This is a guest post from Gary Sharma (aka "The Guy with the Red Tie"), founder and CEO of GarysGuide and proud owner of a whole bunch of black suits, white shirts and, at last count, over 40 red ties. You can reach him at gary [at] garysguide.com.
I recently visited a friend at her offices in Union Square. As she gave me the grand tour, she pointed at a room: "That used to be Andy Warhol's office." I paused. THE Andy Warhol? Yup! Apparently the building became home to Warhol's Factory back in 1973. It struck me that in today's world of Twitter and Instagram and fans and followers and micro-celebrities, Warhol's "15 minutes of fame" quote had finally come true.
Speaking of factories, as I made my way out of the building I ran into one-man idea factory Seth Godin and his son Alex. Seth had recently come out with a new book (via Kickstarter),  The Icarus Deception, which I was eager to sink my teeth into, and Seth was excited about an event I'm co-organizing next month: The Big Apple Smackdown a.k.a. Silicon Alley's First Annual Ping Pong Tournament! FYI, I'm raffling off 5 FREE Passes to this invite-only event. So apply today and keep your fingers crossed! 😉
Applications for the Fall 2013 Masters of Engineering program at Cornell NYC Tech are now being accepted! Deadline is March 15. Questions? Email admissions@tech.cornell.edu.
The deadline is bearing down on us for Competition THRIVE, which NYC EDC (with Baruch College) created to seek innovative strategies for helping immigrant entrepreneurs succeed. Five semi-finalists get $25,000 and the grand prize winner gets $100,000. Apply by this Thursday, March 7.
Congrats to Raspberry Pi on their first birthday! With over a million Pis sold, this is one New York startup I'm very excited about. It feels like New York City is very much at the center of the Maker Movement, with Kickstarter, Quirky, MakerBot, BugLabs, Etsy and Shapeways all here right in our backyard.
SPLAAATTT!!! That's the sound of my Google Calendar finally buckling under the weight of all my SXSW RSVPs, now at a mind-numbing 330 parties! Good God. What kind of monster have we created?! FYI, I have two FREE passes to Rovio's SXSW BBQ & Pool Party! Each pass is good for 1 person + 1 guest. Yes, the Mighty Eagle will be there.
In other SXSW news: My friend Irina will be doing TechCab Confessions at SXSW, giving attendees a free ride in exchange for their video confession of a technological sin. We're once again partnering with the good folks at Shoutem to create the Austin Party Guide app, so make sure to download it. And finally, to get everyone in the mood, my buddy Brian Shields (IncubateNYC) has created this mixtape with DJ B-Hen. 
If you're not going to SXSW, there are still plenty of events happening in New York City including The 5th Annual NxNYC, The Anti-SXSW and South by Southside.
Mark your calendars, because coming up next month, on April 25, is what's shaping up to be the lagest tech startup event in the world–AND it's free. I give you: New York Tech Day!
Finally, check out Fred Wilson interviewing Jack Dorsey at the NYU Entrepreneurship Festival last week. These are two guys at the top of their game. Jack talks about his favorite book (Hemingway's Old Man and the Sea), his admiration for Bieber, his love of sailing, his short-lived career as a tailor, why he chose Fred as investor, his dreadlocks-and-nose-ring days and more.
And now let's see what's going down in the Alley this week…
BRITE 2013 Conference
Speakers include Shiv Singh (PepsiCo), Kaaren Hanson (Intuit), Liz Schimel (Meredith), Charles Duhigg (New York Times), Kerry Trainor (Vimeo), Michael Hagan (LevelUp) and others.
Monday (Mar. 4), 8 a.m. @ Columbia University Lerner Hall, 2920 Broadway
Founders@Fail: How To Build A Community
With Mark Peter Davis (founder, Kohort), Amanda Hesser (founder, Food52), Kathryn Minshew (founder, The Muse) and Jen Rubio (head of social, Warby Parker)
Monday (Mar. 4), 6:30 p.m. @ General Assembly East, 902 Broadway, 4th Fl.
Art and Technology: Wendi Murdoch and Jerry Yang
Monday (Mar. 4), 6:30 p.m. @ Asia Society, 725 Park Avenue
The Future of Food – A talk at the Museum of Natural History
Join plant geneticist Paul Gepts, economic journalist Fred Kaufman, ethicist Paul Root Wolpe, and intellectual property lawyer Rochelle Dreyfuss for an intellectual feast about the future of food.
Tuesday (Mar. 5), 6:30 p.m. @ American Museum of Natural History, Central Park West at 77th Street
Crowdfunding Cleaner Waterways With +POOL
A discussion on how design can transform cities and improve the environment. With the founders of +POOL (a Kickstarter project that raised $40,000 to design a floating swimming pool in the East River that'd filter 500,000 gallons of water every day)
Tuesday (Mar. 5), 6:30 p.m. @ Huge Brooklyn, 45 Main Street, 2nd Fl.
Tech Tuesday
The Return of Tech Tuesday with GrandLife and Fueled: Pre-SXSW Edition
Tuesday (Mar. 5), 7 p.m. @ Tribeca Grand Hotel, 2 6th Avenue
BUZZtheBar Launch Party! (Free with discount code GARYSGUIDE)
Classy 1940s meets modern-style boozing, games, giveaways, and just a darn good time! Free with discount code GARYSGUIDE.
Tuesday (Mar. 5), 8 p.m. @ Hotel Chantelle, 92 Ludlow St
March NY FinTech Startups Demo Day!
Featuring EquaMetrics, Vestorly, TradeEmbark and more.
Wednesday (Mar. 6), 6:30 p.m. @ Dechert, 1095 6th Avenue, 28th Fl.
Inaugural Latino Tech Meetup
Wednesday (Mar. 6), 7 p.m. @ ThoughtWorks, 99 Madison Avenue, 15th Fl.
Accelerating Startups – Introduction to DreamIt NYC
Learn about DreamIt NYC Summer 2013 program. With Mark Wachen (managing director, DreamIt NYC).
Thursday (Mar. 7), 12 p.m. @ NYU-Poly DUMBO Incubator, 20 Jay Street, Ste 312, Brooklyn
The Future of Education #2: Innovation in K-12 Learning
With Andrea Coleman (CEO, Office of Innovation at NYC Dept. of Education), Ivan Cestero (Avenues: The World School), Leigh Ann Sudol-DeLyser (Academy for Software Engineering: AFSE NYC) and Lyel Resner (NYU Stern & Startup Box: South Bronx)
Thursday (Mar. 7), 7 p.m. @ Avenues: The World School, 259 10th Avenue
Women 2.0 Founder Friday NY
Happy International Women's Day! Come celebrate.
Friday (Mar. 8), 6 p.m. @ Google NYC, 111 8th Avenue
NY Gaming Meetup and Games.com Hackathon
To celebrate the launch of the new Games.com platform.
Saturday (Mar. 9), 1 p.m. @ AOL Ventures, 770 Broadway, 6th Fl.
Tech@NYU DemoDays
Students across NYC take the stage to showcase what they've been working on!
Saturday (Mar. 9), 3 p.m. @ eBay HQ NYC, 625 6th Avenue, 3rd Fl.
More events on the horizon…
NYTECH Presents: Legal Essentials for Startups – Intellectual Property Protection on Mar 11 @ Anchin
NY Enterprise Tech Meetup on Mar 12 @ Cooley
Entrepreneurs Roundtable 56 on Mar 13 @ NYU Stern School of Business
Unleash the Beast: How to Hack a Hackathon Save the World and Make Your Parents Proud on Mar 14 @ Internet Media Labs
Investor Feedback Forum on Mar 14 @ Microsoft
The Future of 3D Manufacturing – Brooklyn Style on Mar 18 @ Brooklyn Law School – Moot Court Room
March 2013 NY Tech Meetup on Mar 19 @ NYU Skirball Center For The Performing Arts
Mobile UX Design Four-Part Series: Theory, Science, Optimization & Design on Mar 20 @ Frankfurt Kurnit
Design for Manufacturing Summit #3 on Mar 21 @ Dumbo Spot
Big Apple Smackdown: Silicon Alleys 1st Annual Ping-Pong Tournament! on Apr 14 @ SPiN New York
NY Tech Day on Apr 25 @ Pier 92
Until next week. Stay thirsty social, my friends! 😉