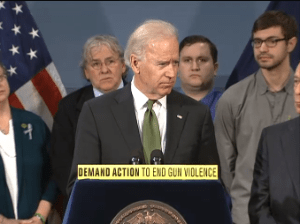 As the U.S. Congress debates gun control legislation, two of the countries' leading advocates on the issue–Vice President Joe Biden and Mayor Michael Bloomberg–held a City Hall press conference today to pressure federal lawmakers to have enough "courage" to vote in favor of the bill when it hits the floor. Standing behind victims' family members from last year's massacre at a Newtown, Connecticut elementary school, Mr. Biden and Mr. Bloomberg argued the measures being proposed are neither controversial or unconstitutional.
"There's not one single thing being proposed–not one, not one , not one, not one–that infringes on anyone's Second Amendment constitutional right. Not one," Mr. Biden said. "Three months ago, a deranged man walked into Sandy Hook Elementary School with a weapon of war. That's what he walked in with–a weapon of war. That weapon of war has no place on American streets and taking it off American streets has no impact on one's constitutional right to own a weapon."
"There's no doubt that requiring background checks for all gun sales saves lives and there's no doubt that the American people support it," Mr. Bloomberg said. " The only question is whether Congress will have the courage to do the same thing or if they will allow more innocent people, including innocent children, to be gunned down. It has been 97 days since Newtown, in that time, we estimate that more than 3,000 Americans have been murdered with guns. Almost none of the victims generated national headlines, but each murder was a tragedy for the victim's family and for the community. If Congress does nothing, another 12,000 people will be murdered with guns this year alone. We just cannot allow that to happen."
The pair also praised each other's advocacy on the gun control issue.
"There's been no better person to be leading this effort in Washington than Vice President Biden," Mr. Bloomberg said, labeling Mr. Biden "a stand-up guy."
For his part, Mr. Biden extolled Mr. Bloomberg's organized lobbying efforts, declaring, "There has been no support that has been more consequential than the support coming from Mayor Bloomberg. It has been immense. It is organized, it is committed and it is consequential."