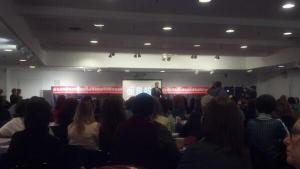 As Council Speaker Christine Quinn officially kicked off her bid to be the first female Mayor of New York City today, one of her chief rivals in the Democratic primary, Public Advocate Bill de Blasio, had his own launch event for "Women for de Blasio." Not shying away from boisterous rhetoric, Mr. de Blasio labeled the event "an extraordinary moment for our campaign" and said it was part of a process that would ultimately change New York City's future.
"I want to thank everyone for being here. I got to tell you, this is how the world turns. This is how things change," he told the crowd of supporters gathered at the Synagogue for the Arts in Lower Manhattan. "People who have decided what they believe in, who have decided they can make a difference. That applying that … energy in an infectious manner starts to change a society before their very eyes. If we had a dozen such people, we'd be beginning to change this city, but there are hundreds of such people in this room. I've always adored the quote from Margaret Mead, 'Never doubt that a small group of [thoughtful,] committed citizens can change the world. Indeed, it is the only thing that ever has.'"
Although Mr. de Blasio spent most of his speech touting the power of political organizing, the importance of family and his education proposals, when it came to the subject of paid sick day legislation that Ms. Quinn has bottled up in the City Council, he criticized her by name and urged the bill's passage.
"We have some things we need to change," Mr. de Blasio said. "New York City is supposed to be the most progressive city in this country. How on Earth is it possible that someone could lose their job in this city simply because they're sick and no law would stop that from happening? Well, a lot of you know this. That law is sitting on a desk in the City Council where it's been for three years. I have to tell you, I respect all of my opponents in this election. I respect the work they've done. But I have to say to Speaker Quinn, 'Speaker Quinn, we deserve a vote on paid sick days now!' A million New Yorkers are begging and pleading that they just get the right to a vote on this issue. And it's time."
Joining Mr. de Blasio today was his wife, Chirlane McCray, who said she was "most proud of being the original 'Woman for de Blasio,'" as well as actress Cynthia Nixon, who has become increasingly involved in his campaign since it launched. For her part, Ms. Nixon didn't directly mention Ms. Quinn, but she did insinuate a Quinn administration would be a continuation of Mayor Michael Bloomberg's.
"He will reboot the city across the board," Ms. Nixon said of Mr. de Blasio. "He will reset our course and he won't just protect the status quo. Michael Bloomberg has done some good things, and he's done some bad things. And we've had 12 years of him and enough is enough. I don't want one minute more of Bloomberg or anyone that purports to be the next Bloomberg."
When Politicker inquired about Mr. de Blasio's own impression of Ms. Quinn's campaign launch today, he echoed Ms. Nixon's criticism by noting Ms. Quinn reportedly declined to castigate Mr. Bloomberg's policies when she was asked about strengthening the city's middle class.
"First of all, I did not hear, again, answers to the questions everyone has about Speaker Quinn," the public advocate told us. "When are we going to have a vote on paid sick days? Why are you unwilling to tax the wealthy if that's the kind of thing that would actually help us fix our school system? It seemed like more of the same today. I understand she was asked if she felt good about what Bloomberg policies have done for the middle class and she was not willing to challenge the mayor. I think that was par for the course."
As Mr. de Blasio, like Ms. Quinn, paired his campaign launch with a five borough tour of the city, we also asked him about the similarities between the two kickoffs.
"What is it they say? Imitation is the sincerest form of flattery," he replied. "We've seen a lot of imitation from her campaign."