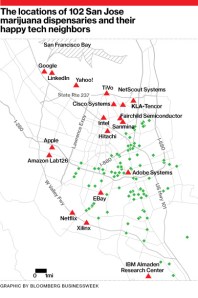 It's not easy being a computer programmer in Silicon Valley. Even with slides, buffets, and any other number of ridiculous amenities, the tech business can be a stressful and even physically painful endeavor (you try typing for twenty hours straight). But for many of America's best coders, the remedy to stress is manifesting in a way bosses would probably rather not know about: they gettin hiiiiiiiigh, brah! San Jose, which is home to over 100 medical marijuana dispensaries, is seeing a noticeable uptick in the number of customers who work in tech, according to a report from Businessweek.
Nearly 40 percent of customers at Palliative Health, a medical marijuana distributor, work in the tech industry, and although most tech companies do not allow marijuana usage or possession on their campuses, some employees are skirting this rule. They use products like MedMar Healing Center's "Veda Chews", a marijuana infused chocolate toffee which delivers the pain relief effects of marijuana without the psychoactive effects. MedMar says that at least 15 percent of its clients work in the tech industry.
It only takes a "recommendation" from a doctor for a patient to obtain medical marijuana, and it can be used for arthritis, migraines or "any other illness for which marijuana provides relief," according to the initial 1996 California medical marijuana law. Apparently arthritis and migraines are pretty common maladies among programmers.
While it is commonly used by many employees in the Valley, tech companies are apparently pretty hesitant to start employing mandatory drug testing, for fear of losing too many employees. "The Silicon Valley data support recent news reports citing some employers who say they are having a hard time finding candidates that can pass the preemployment drug test,"  Barry Sample, director of science and technology for Quest Diagnostics Employer Solutions, told Businessweek.
Maybe all Marissa Meyer needs is to let her employees light a little chronic to increase productivity.