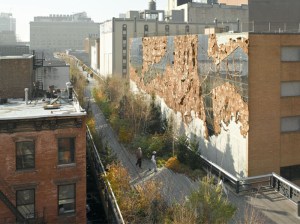 The art just keeps coming on the High Line! Last week High Line Art shared news of their upcoming exhibition, "Busted"; now they have just released their full spring schedule, which includes a new commission by Carol Bove and a performance by Mungo Thompson.
Ms. Bove, according to a release from High Line Art, will stage a work called Caterpillar, "a series of large-scale sculptures [that will] punctuate the wild, untouched landscape of the High Line at the Rail Yards" in May. The piece will remain on view for a year. Mr. Thompson will present a piece performance called Crickets with a chamber orchestra on June 21, to mark the summer solstice.
Also on tap is a video from Superflex, beginning May 7.
Having not been up to the High Line in a few weeks, I didn't realize that Guido Van der Werve's Nummer negen, the day I didn't turn with the world (2007), a stop-motion video that shows the artist at the North Pole, turning with the world for a full day, went on view in the High Line's Channel 14 space, above West 14th Street, on March 11. (An excerpt of that film follows below.)
The full schedule of what is currently on view is available here.