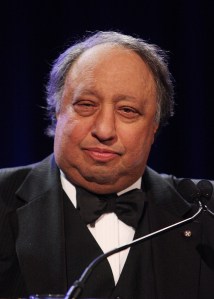 Early on in the mayoral race, the head of the Brooklyn Republican Party, Craig Eaton, was solidly in the corner of former Bronx Borough President Adolfo Carrión, whom he declared to be a potential "gamechanger" for the party as it seeks to retain its hold on City Hall. Mr. Carrión, however, is a registered independent and would need the support of three of the five county chairs to run in the Republican primary. As Mr. Carrión has only been able to secure the backing of two, Mr. Eaton told Politicker that he's now "leaning heavily" towards endorsing another candidate, billionaire businessman John Catsimatidis.
"We've been friends with John Catsimatidis a long time and we supported him last go around [in 2009] when he was looking to run," Mr. Eaton said earlier this afternoon. "We were on the sidelines with Adolfo since he came into the race and were looking to endorse Adolfo. However, it doesn't appear that we're going to get a third Republican chairman on board. About a month ago, I mentioned that if we don't get a third Republican chairman on board, then John would probably be the heir-apparent of the Brooklyn GOP. … You can say that we're leaning John Catsimatidis at this point. "
Should he endorse Mr. Catsimatidis, Mr. Eaton would be joining the Queens and Manhattan GOP chairmen who have already declared their support for Mr. Catsimatidis. Staten Island chair Bob Scamardella had been leaning towards a third Republican, Joe Lhota, but surprisingly resigned at the end of last month, leaving that borough's situation a little more murky. The fifth chair, Bronx's Jay Savino, was backing Mr. Carrión's bid, but is also reportedly set to switch over to Mr. Catsimatidis should his first choice falter.
Nevertheless, the party's field is set to be a crowded, four-way affair even without Mr. Carrión, as publisher Tom Allon and Doe Fund founder George McDonald additionally compete for the nomination.