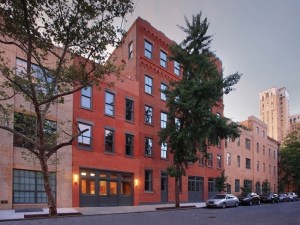 Just two months ago, Curbed reported that a penthouse at Love Lane Mews sold for $2.725 million, setting a new Brooklyn Heights record of $1,482 per square foot.
And according to city records, it looks like the record-setting per-square-foot condo price was no accident: Sean Casey and Emelie Kihlström just bought a fourth-floor unit at 9 College Place—a lovely little lane away from the not-so-busy main streets of Brooklyn Heights. They paid the developer nearly $2.19 million for the unit, which works out to the exact same price per square foot: $1,482.
Neither Mr. Casey nor Ms. Kihlström are strangers to the area, as both run businesses within walking distance of their new abode.
Ms. Kihlström is an investor at Colonie, a restaurant on Atlantic Avenue, where she used her charm and stunning Swedish looks to persuade a Department of Buildings official to not delay the restaurant's liquor license ("He fell in love with her," one of her partners told the South Brooklyn Post).
Mr. Casey, for his part, owns a more high-tech business than his wife's farm-fresh restaurant: he is the founder of SocialGuide, which seeks to track the popularity of television shows through social networks like Facebook and Twitter. The company was bought out in November by ratings giant Nielsen, which may explain the couple's big first New York City home buy. (Though Mr. Casey's payday might not have covered the whole purchase—the couple still took out a $1.4 million mortgage on their new home, according to city records.)
The apartment itself is located in a former garage, and contains a generous floor plan with an even more generous helping of outdoor space on both the east and west sides of the unit. In fact, there is almost as much terrace space (1,332 square feet) as there is space indoors (1,477 square feet). There are two bedrooms and an equal number of bathrooms, and each bedroom is blessed with a walk-in closet and direct access to the patio.
The apartment also contains an open chef's kitchen. But given that Ms. Kihlström and her partners are opening a new restaurant in Dumbo—which means that she'll own two within walking distance of her apartment—we're guessing that the couple's new kitchen at Love Lane Mews won't be getting much use.
Correction: The Brooklyn Heights per-square-foot record in question was the condo record, not the overall record. We regret the error.