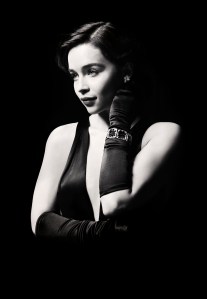 In the Carlyle Hotel's Royal Suite, Tiffany's iconic crack-of-dawn window-shopper was having her theatrical coming-out party. We're talkin' Broadway here—the belated stage bow of Breakfast at Tiffany's—and Sean Mathias, the British director who'll bring it to pass March 20 at the Cort, was holding forth.
"This will be like seeing a new play," he promised a group of journalists. "That is the excitement of this."
It's not a musical, though it has musical elements. "Holly Golightly sings a song—just not 'Moon River,'" he said. "It's a surprise what she sings. It's not Audrey Hepburn. It's not George Peppard. It's not Blake Edwards. It is Truman Capote, by way of Richard Greenberg."
Mr. Greenberg, a no-show with three shows about to open, was presumably deep in rewrites in some urban cave somewhere. But Mr. Mathias proved more than an able spokesman for Breakfast at Tiffany's, having helmed another version of it at London's Haymarket in 2009, starring Anna Friel of Broadway's Closer and Joseph Cross of Lincoln, Milk and Running With Scissors.
"I've had the title in my pocket now for five years so I have a real relationship with this property," he declared. "Samuel Adamson, an Australian who lives in London, wrote that one. The Greenberg one is quite different: it's the New York version."
The Golightly According to Greenberg, he said, "was instigated by producer Colin Ingram—actually, it was his wife's idea—so here we are." For stars, he hired two precisely cast Broadway novices and surrounded them with 13 fairly familiar stage faces.
Holly is Emilia Clarke, currently lording over HBO's medieval fantasy, Game of Thrones, and the Capone-facsimile sideline-observer (here called Fred) is Cory Michael Smith, the Mormon house-caller of The Whale at Playwrights Horizons.
A gangling youth along the jagged lines of early Anthony Perkins, Mr. Smith said he was shooting for a Capote-Peppard blend in his role. "I like to think Fred is an amalgam of both—a leading man like George and an artist like Truman. He has had an abandoned, neglected childhood so he's a similarly damaged individual, coming to New York young, running away from something."
Fred and Holly come together like orphans of the storm. A relationship, and some love, ensue—but it's hardly as romanticized as the movie. "It's so daring to try to tell this story and do it on stage." Mr. Smith ventured. "I appreciate the courageousness of it because I think the play is very much in the spirit of Truman and Holly. It's a tragic story in a way, but it certainly has elements of comedy. Truman loved big characters, and those are the ones who bring levity to the story. I would like to think that it's as complex a play as Holly is a character."
Ms. Clarke said, "The play's more dramatic than the film was. There's more heartbreak and soul to it here. I'm Holly Goheavily."
How really different, Mr. Mathias was asked, are his Hollys? "Every actor is unique," he tactfully noted, "and what Emilia brings to it more than anything is youth, freshness—I mean, she's totally charming, incredibly talented, all those things."
He had seen her at work tending dragons and such on HBO before a casting director suggested she'd have enough crust to request "$50 for the power room" as Holly did on dates. "I thought [Game of Thrones] was very striking, and she was rather wonderful, but that wouldn't necessarily be a good audition for Holly, so they sent her to me, she auditioned, and I just loved her."
On Thrones, Ms. Clarke's character, Dany, is "an exiled princess who turns into a warrior queen—in a sentence," she said with a giggle. This somehow seems to put her on an equal footing with Holly Golightly in the concrete jungle of Gotham. "What they do have in common is they're both, fundamentally, survivors."
Breakfast at Tiffany's marks Ms. Clarke's stage debut—although she asterisked, "I trained at Drama School for three years. That was the last time I did a proper play." Stepping from Dany to Holly has been head-swimming. "As in a fairy tale, it just sorta happened. I got the call. I got incredibly excited. I met Sean. We had a very decadent four-hour lunch, followed by an audition the next day, which was wonderful, but the day after the audition, I told a friend, 'I feel like Wendy, and he's gone back to Never Never Land.'"
Now, Ms. Clarke must face down the Grendel's Mother of movie memory. "Audrey Hepburn is Audrey Hepburn, and she is untouchable, isn't she?" said Mr. Mathias, assessing the battlefield.
"We never refer to the movie," he said. "Never. I've never even discussed it with Emilia. I've never even asked her if she's seen the movie because it would not be helpful. We are concentrating purely on the book."
Returning to the roots of Holly Golightly is like returning to the roots of Cinderella, as we've already seen this season. The public is reluctant to buy it because they have already bought the movie version, and they cling to it.
Mr. Capote acknowledged that the immediate mythology of the movie pretty much covered the trail back to his novella and to the Holly Golightly of his own creation. (That character was supposedly inspired by the personality of Carol Grace, an actress-author who was whispered to be the illegitimate offspring of Leslie Howard and who subsequently wed William Saroyan and Walter Matthau.) "The screenplay of Breakfast at Tiffany's seems to me excellent," assessed Mr. Capote at the time, "but more as a creation of its own than an adaptation of my book—no complaints, however … and, anyhow, Holly is still Holly, except once or twice."
Audrey Hepburn entered the film aware that she was miscast in a part fashioned for Marilyn Monroe. Never mind that Holly is 19 in the book and she was 31. Also, never mind her English affectations disguised a Texas accent. Having long ago said adieu to realism, Hubert Givenchy was allowed to give new meaning to the phrase "high-end hooker"; in fact, the black frock he whipped up for her entrance in the opening credits is the second most expensive piece of movie memorabilia ever sold at Christie's London Auction House.
The truest note in the film was struck by Henry Mancini's sad, surging "Moon River," which caught the melancholy of the Capote book. Musically, he was merely playing it close to the vest, using only one octave and sculpting the song to Hepburn's untrained voice.
Breakfast at Tiffany's may not be Hepburn's personal-best performance, but it's the one you want to take to the desert island. The Capote roots got upstaged, lost in all that starry screen stuff, and there have been a few theatrical expeditions to unearth these treasures. Infamously, producer David Merrick tried to bring a stage version to Broadway in 1966 with Mary Tyler Moore, Richard Chamberlain and a Bob Merrill score, and some major scribes tried to break the Capote code—to name names: Nunnally Johnson, Abe Burrows and Edward Albee. The latter killed "Cat," and Mr. Merrick killed the show after Preview Four—a big million-dollar misunderstanding.
With this new Breakfast at Tiffany's, Mr. Mathias finally gives Mr. Capote his day in court and lets him make his own music. He reminded the press: "Holly Golightly, at the end of the story, says of New York—the city in which she lives and loves—'this town is dead to me. Certain shades of limelight wreck a girl's complexion'—and, of course, that's exactly what happened to Truman Capote himself many years later. Certain shades of limelight wrecked his complexion.
"We're not here to restore Truman Capote to you. … We are here to share our version of this story with you—and one that we think is very touching, very compassionate, full of style and glamour and wit."