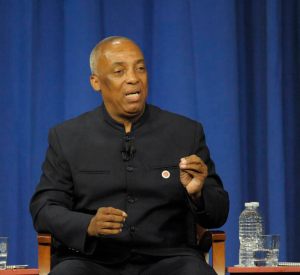 Although almost all of the city's elected officials have stayed mum on this year's mayoral election, especially on the Democratic side of the aisle, two new politicians have already thrown their support behind different candidates this week. Brooklyn Councilman Charles Barron endorsed Comptroller John Liu for the city's top job and Manhattan Congresswoman Carolyn Maloney did the same for Council Speaker Christine Quinn.
"I think he brings energy. I think he brings real commitment to working class families. He's a fighter against Wall Street," Mr. Barron told Politicker before Mr. Liu's Sunday announcement event. "I think he's done good as comptroller to make sure that we got an equitable share of the contracts and pension investments. I think he'll be the best candidate."
Mr. Barron, of course, has said a raft of controversial statements during his tenure in office. So, during Mr. Liu's hang-out in the press van, we asked if the comptroller embraced the support.
"I worked closely with Charles in the City Council," Mr. Liu said after expressing some initial surprise that Mr. Barron had, in fact, offered his endorsement. "The answer is 'yes,' I would happily accept his endorsement."
For her part, Ms. Maloney announced her support for Ms. Quinn during a press conference today.
"I am incredibly proud to endorse Christine Quinn to be New York's next Mayor," Ms. Maloney wrote in a follow-up email to Ms. Quinn's supporters. "For the past seven years as Speaker, Chris has held the second most powerful job in City government and she's proven again and again that she's tough enough to run this city and make the hard choices a Mayor faces every day."
We also asked Mr. Barron, who has had a very contentious relationship with Ms. Quinn, about whether he considered endorsing her.
"Who? Who?" he replied. "Who? I don't know who you're talking about."