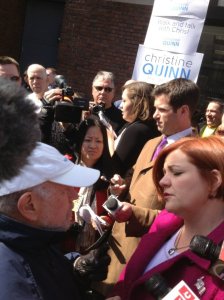 City Council Speaker Christine Quinn officially launched her long anticipated mayoral campaign this morning with a "walk and talk tour" of the five boroughs. Though the event was carefully choreographed, with the locations of the various stops not made public so only handpicked supporters and reporters who tagged along in a press van without knowing the destinations could meet Ms. Quinn at each point of her journey, the Speaker was still confronted with a heckler who brought up one of the more controversial moments of her career–when the Council she led paved the way for Mayor Michael Bloomberg to run for a third term by overturning the term limits law in 2008.
"Why did you push Bloomberg for a third term!" an elderly man named Herbert Goldman shouted as Ms. Quinn spoke at her third stop of the day in Forest Hills, Queens. 
Ms. Quinn responded by promising to speak with Mr. Goldman about term limits after she took questions from the press and finished her remarks on the major themes of her tour, "the future of the middle class in the City of New York," and her desire to communicate directly with voters about "what they want us to be doing around housing, around education, around job creation."
"Let me just finish here and I'll come over and talk to you for a second, ok?" she asked Mr. Goldman.
He initially didn't seem willing to wait.
"Why did you do that? We voted twice for term limits," Mr. Goldman said, referencing the pair of referendums voters passed indicating their desire to have term limits remain in effect.
"Give me one second," answered Ms. Quinn. "I'll come over to you. OK? Is that a deal?"
"Hurry up!" Mr. Goldman responded.
Ms. Quinn then concluded her speech and fielded a few questions from the assembled press as Mr. Goldman loudly reminded her he was "waiting." After speaking with the reporters, Ms. Quinn headed straight for Mr. Goldman. She asked him his name and clasped his hand in hers.
"Hi Herbert, how are you?" she asked. "So, clearly, I think we disagree on the decision I made."
Mr. Goldman cut her off before she could say anything else.
"Do you understand we voted twice for term limits?"
Ms. Quinn started to respond, saying, "In that referendum that you passed…that you and other voters, you also gave–"
Mr. Goldman interrupted again to pull his hand away from hers.
"You can put your hand down," he said provoking Ms. Quinn's famously loud laugh.
"You also gave, you voters gave the Council the opportunity to make changes legislatively if we thought that was necessary," Ms. Quinn continued.
"How do you feel about our vote?" Mr. Goldman asked. "How do you feel about the fact that we voted twice for term limits? How do you feel about that?"
"I feel that in that vote you took a position," began Ms. Quinn. "You also gave–"
Once again Ms. Goldman interjected before she could finish her response.
"In other words, we disagree and you don't give a damn about our election votes," he said.
This time, he gave Ms. Quinn a chance to respond.
"Absolutely not. That's not true," she said. "I made a decision at that moment, with many of my colleagues, to give voters the opportunity in the worst economic crisis we've had, to make a decision to either keep some of us and not keep others. And that's what happened and I respect that, for some people, like you, sir, perhaps … the decision I made will make it impossible for you to vote for me for mayor."
"Yes that's true," said Mr. Goldman. "And I think some other people are going to feel the same way."
"I have no doubt they will let me know that," Ms. Quinn said as aides began to usher her away. "We're just going to have to disagree, but I thank you for stopping and thank you."
"Good luck," replied Mr. Goldman.
Before leaving, Ms. Quinn asked Mr. Goldman if she could leave him with  "at least another handshake."
He consented and she took his hand once again before they parted ways.
"Thank you, Herbert," she said. "I appreciate your time."
After Ms. Quinn and Mr. Goldman separated, she continued down the street shaking hands with other locals, but the swarm of reporters that had followed her every move at prior stops in Manhattan and the Bronx left her alone for the first time and surrounded Mr. Goldman. At his impromptu press conference, Mr. Goldman said he didn't expect to see Ms. Quinn on the street and "just came out to get some potatoes." He also explained his opposition to Mr. Bloomberg's third term was not a result of dissatisfaction with the mayor's leadership.
"He's done a great job," said Mr. Goldman. "There are other guys that can do a great job, too. We don't need him. What is this? … What is he, a king or something? … There are other people who could be mayor and we voted twice for term limits."
Before the press returned to Ms. Quinn, DNAInfo reporter Jill Colvin asked Mr. Goldman why he rebuffed Ms. Quinn's initial efforts to shake his hand.
"She was holding my hand for minutes and she doesn't have to," he said. "We can drop our hands."
To illustrate his point, Mr. Goldman then held out his hand and instructed Ms. Colvin to shake it. She reluctantly obliged and he quickly let go.
"There," he said. "Enough!"
Ms. Quinn then concluded her visit in Queens after taking a brief walk around the area and stopping in a local pizza shop. Brooklyn and Staten Island will be the final stops on her campaign launch tour.