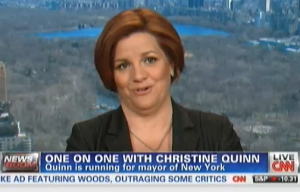 Yesterday, The New York Times made a splash in the city's political scene by dropping a front-page  look into Council Speaker Christine Quinn's forceful management style. The article–full of catchy anecdotes like threats against colleagues' "balls"–generated a small storm of media coverage, and this morning, Ms. Quinn went on CNN to embrace her "pushy" personality and the accomplishments she says it helped her achieve.
"At times I get really emotional about the work I'm doing," she said. "It's really important work and at times you need to be really forceful to get things that are stuck unstuck. Now, obviously we all want to modulate our tempers and keep them in check, but I have big emotions and I care deeply about delivering for New Yorkers and sometimes that means you got to push things forward. And I think New Yorkers know that. This  a tough town and we're a tough people."
Ms. Quinn, a leading candidate for mayor this year, did take exception "some of the stuff" in the article, however, which she labeled "a complete exaggeration." Specifically, she denied soundproofing her office to contain her angry tirades. Rather, she said it was because there was a "weird echo chamber" in the area.
Additionally, in The Times piece, Ms. Quinn didn't deny pulling Councilwoman Elizabeth Crowley's member item funding as retribution for insufficient credit in a press release, but on CNN today, Ms. Quinn said it was "absolutely" untrue that she wields her power in that sort of vindictive manner. Nevertheless, she extolled her efforts to "bring discipline" into the legislative body.
"I've tried very hard to bring discipline to the City Council which was known for many, many years as kind of a undisciplined body without focus," Ms. Quinn contended. "Now that means bringing order–having twice monthly Democratic caucus meetings, reviewing legislation, asking people to comment when they're supposed to comment, not comment when they're not supposed to comment, follow a deadline of timelines and an orderly process–I'm not going to apologize for that."
Ms. Quinn was also asked about claims that the article was sexist in its framing of her personality, which she simply brushed aside.
"I'm not a man. I'm a woman," she succinctly stated. "And I'm an aggressive woman who gets things done and that's the way it is. And I've never been embarrassed about the fact that I'm pushy and aggressive. "