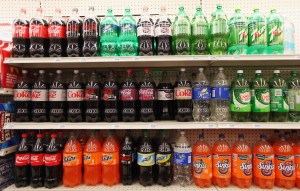 Earlier today, the state Supreme Court blocked New York City's controversial attempt to ban large cups for sugary drinks in restaurants and other food establishments. The ruling, which you can view below, blasted the ban as "arbitrary and capricious," ultimately creating "an administrative Leviathan." The rules were scheduled to go into effect tomorrow.
"It is arbitrary and capricious because it applies to some but not all food establishments in the City, it excludes other beverages that have significantly higher concentrations of sugar sweeteners and/or calories on suspect grounds and the loopholes inherent in the Rule, including but not limited to no limitations on re-fills, defeat and/or serve to gut the purpose of the Rule," Judge Milton Tingling ruled.
Fundamentally, Judge Tingling concluded that the city's Board of Health lacked the authority to implement the regulations.
"The Portion Cap Rule, if upheld, would create an administrative Leviathan and violate the separation of powers doctrine," he argued. "The Rule would not only violate the separation of powers doctrine, it would eviscerate it. Such an evisceration has the potential to be more troubling than sugar sweetened beverages."
The city has vowed to appeal the ruling and Mayor Michael Bloomberg already scheduled a City Hall press conference on the topic later today, so the drama is still far from over.
"We plan to appeal the sugary drinks decision as soon as possible, and we are confident the measure will ultimately be upheld," the mayor's office wrote on Twitter. "We believe [the Board] has the legal authority and responsibility to tackle causes of the obesity epidemic, which kills 5,000 NYers a year."
View the ruling below, via Capital Tonight.
[scribd id=129791408 key=key-zm34ooor79ehjp5j80d mode=scroll]