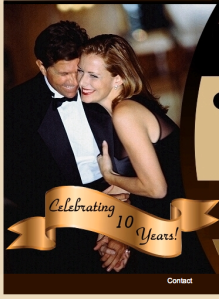 Woodside, California is a quaint, wealthy suburb in San Mateo County, situated about 20 minutes from the tech hub of Palo Alto. Because of its close proximity to big tech companies like Google and Facebook, many wealthy entrepreneurs (including Larry Ellison!) call Woodside home. And now, because of its plethora of eligible rich men, online dating startup SugarDaddie.com, which unites "wealthy, desirable and attractive people," has offered the town $11.65 million to officially change its name to SugarDaddie.com, USA.
It's not the worst idea we've ever heard.
SugarDaddie, which has been around since 2003, wants to create the world's first dating site-sponsored city. Unfortunately, it's having some trouble finding a taker. Sugar Land, Texas already turned down its $5 million offer, and $11.65 million is probably chump change to the tech billionaires settled in Woodside. ($11.65 million is what Captain Larry E. calls "loose change.")
If Woodside accepted SugarDaddie's proposal, they would also have to agree to the following terms, according to NBC.com:
– All official government correspondence, selected institutions and street signs changed to reflect the new name. This includes renaming the Town Hall, town council, public library, annual art fair and all city websites.

— Local government officials must present Steven Pasternack, CEO of SugarDaddie.com, with a key to the town in a formal ceremony.

— And last but certainly not least, a statue near Town Hall must be built of Hugh Hefner or another public figure who best represents the sugar-daddy lifestyle.
Has SugarDaddie tried presenting this offer to a town in Florida? Seems like they'd probably be up for it.