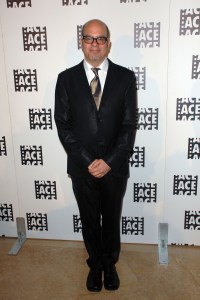 Before his conversation with Michael Cera began last Wednesday night, comedian David Cross could be spotted chatting with a comely blonde in one of the aisles of 92Y's Kaufmann Concert Hall. He was gawked at, but not accosted, by a crowd clearly composed of die-hard fans. Nearly every seat was taken, and the audience hung on Mr. Cross's every word: absorbing tales of his misfit childhood, cracking up at his quips—and sometimes at nothing at all.
"I truly don't understand why that was funny," said Mr. Cross at one point, visibly perplexed by the crowd's paroxysms of laughter over a half-sentence he hadn't meant as a joke.
Messrs. Cross and Cera, both dressed casually in sneakers with bright red laces, bantered easily. After all, the two know each other well from their days on Arrested Development, which will return with over a dozen new episodes in May. Though many attendees probably knew Mr. Cross best as Tobias Fünke, most of the conversation was devoted to the days before—and after—Arrested.
"What kind of a boy were you?" asked Mr. Cera.
"Like, was I desirable to priests?" wondered Mr. Cross. (Answer: he was not.)
Conversation soon turned to Mr. Cross's two forthcoming films: Kill Your Darlings, in which he plays Louis Ginsberg (father of Allen), and It's a Disaster, which he recently viewed and said he can personally vouch for. "One can't say that about all the work that you do. We were in Year One together," he said with a nod to Mr. Cera, referring to the regrettable caveman quest-cum-biblical odyssey, which also starred Jack Black.
"I assume everyone had too much respect to see it," said Mr. Cera.
The actors then reminisced about the Year One shoot (a "great time") and its location (Shreveport, Louisiana): "honestly one of the worst places in the United States." The actors recalled one night down South when they went to see There Will Be Blood in a local theater and Mr. Cross had an altercation with two fellow moviegoers who were speaking too loudly.
Messrs. Cross and Cera launched into an imitation of the scene: "What's he doing? He's getting oil?" Mr. Cross intoned in his best redneck drawl.
"I'll do you," said Mr. Cera, twisting around in his seat to sharply rebuke the offending parties: "Hey guys, shut up?" Like most of his characters, Mr. Cera is not built for confrontation. "I was expecting to be punched in the back of the head," he confessed. Even more so, perhaps, when Mr. Cross asked the gentlemen, "Are you fucking retarded?"
In addition to movie talkers, Mr. Cross informed the room that he doesn't like the Barenaked Ladies—"They're like corporate picnic fun"—or Larry the Cable Guy.
"The Barenaked Ladies of comedy?" suggested Mr. Cera.
"That's not fair to the Bare Naked Ladies," said Mr. Cross.
Oh, or Jim Belushi. Especially not Mr. Belushi.
Now that we had already heard all of Mr. Cross's dislikes, the night almost started to feel like a personal ad when he launched into his description of a perfect date (it involved a velvet skateboard), which quickly veered into a riff on Seamless.com's subway ads.
"One of their slogans is, and I'm paraphrasing here, 'Seamless.com—Getting to third base just got a lot faster.' And we all know what third base is," said Mr. Cross. "So their advertisement to you is: 'Use our app, and you will [here, Mr. Cross named a sexual act involving one's finger] your date quicker than you would if you didn't use Seamless.'"
The jury is still out as to whether the talk amped up Mr. Cross's love life (he's married to Amber Tamblyn), but it was excellent advertising of at least one sort: Mr. Cross is planning a comedy tour for mid-fall.