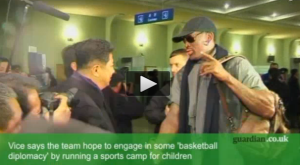 If you thought it was impossible for Dennis Rodman's basketball diplomacy tour of North Korea to get any more ridiculous, then you must have blocked out all of 1999.
Mr. Rodman, who is there with a VICE correspondent for a show about North Korea that will air on HBO later this year, already exposed his obliviousness. "Hopefully, it'll be some fun," he said of putting on a show for local kids. As Wired pointed out, "'Fun' is in short supply in the world's last remaining Stalinist dictatorship."
But his exit interview veered from just ignorant to offensively delusional. Palling around with dictators has never been so literal!
While watching a basketball game between visiting Harlem Globetrotters and members of the North Korean basketball association, Mr. Rodman told Kim Jong-un, "You have a friend for life."
According to the AP, they later drank and dined on sushi together.
Under the hashtag #WORMinNorthKorea, Mr. Rodman brushed off concerns about his welcoming attitude earlier this week, "I'm not a politician. Kim Jung Un & North Korean people are basketball fans. I love everyone. Period. End of story."
Yeah, not quite. Before leaving Pyongyang today, he told Xinhua, the Chinese government's news agency that Kim Jong-Un was an "awesome kid." (An "awesome guy," according to the AP.)
He also said it was "amazing" that the North Koreans were "so honest."
Oh, but there's more! Apparently Mr. Rodman also happily parroted decades of intergenerational propaganda:
He added that Kim Jong Il and Kim Il Sung, North Korea's founder, "were great leaders."
Can't wait until he starts praising Mussolini's way with a train schedule.