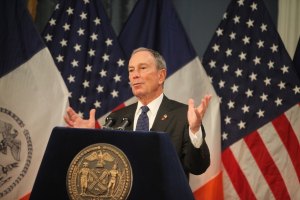 At his press conference this afternoon, Mayor Michael Bloomberg was asked about his thoughts on the "Twitter universe" in light of a recent scandal involving an EMS lieutenant who was suspended after the New York Post revealed a series of racist statements he made on the social media site. Mayor Bloomberg described it as evidence people need to be far more careful about what they post online and suggested he'd even warned one of his fellow media moguls, Rupert Murdoch, to stay away from Twitter.
"Everything you send out is going to be retweeted, re-Facebooked, re this, re that and … if you write it down, some day somebody's going to FOIL it or get it based on a judge's order," said Mayor Bloomberg. "You should write down, number one, only things you believe and, number two, then think about how it would look if somebody else sees it."
Mayor Bloomberg went on to say parents should explain the need to be discrete on social media to their children.
"There are just a lot of young kids who are doing things on their Twitter account, their Facebook account that later on is going to come back and bite them," Mayor Bloomberg said. "I know you want to share information and I know it's nice to be able to express yourself but you just have to have the maturity to understand."
Though the mayor, who has a robust social media presence, said he expects children will make mistakes on Twitter, he expressed surprise the EMS lieutenant who got in hot water and other adults still don't realize the site has a public audience.
"It's kind of hard to understand how anybody like that would not think that some day somebody's going to take a look at what they do," said the mayor. "The bottom line is, it's very addictive, it's easy, you hit a button and nobody thinks that the rest of the world is looking."
The questions on the Twitter scandal came from New York Post reporter David Seifman. After getting the mayor's initial thoughts on the situation and the site in general, Mr. Seifman asked the mayor if he would ever enact a policy to prevent public employees from using social media inappropriately or would just leave it up to "common sense." Mayor Bloomberg said it would be difficult to institute any specific policy.
"There are all sorts of First Amendment issues. I've looked into it," Mayor Bloomberg said. "Companies face this all the time, just like governments do. It's embarrassing to a company to have somebody go out and insult or worse."
To demonstrate just how dangerous he believes Twitter can be for businesses, Mayor Bloomberg told Mr. Seifman he had warned his "boss" to stay off the site. Mayor Bloomberg's comment seemed to be an obvious allusion to Post owner Rupert Murdoch, whose frequent tweeting has not come without controversy.
"I've told your boss I think he should stop twittering," Mayor Bloomberg said to Mr. Seifman. "It's dangerous because people can take things out of–you know, 140 odd characters doesn't give you a chance to explain what you really mean. It's just a phrase that gets taken out of context."
Mayor Bloomberg was coy when another reporter followed up by asking him to confirm he was referring to Mr. Murdoch.
"I don't know who that would be," he said with a laugh.