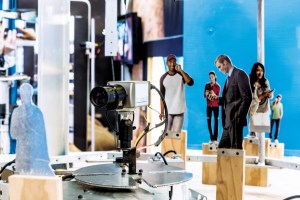 Late last year, Philip Roth announced that he had retired from fiction. His profligacy and his "struggle with writing" over, Mr. Roth, 79, told The New York Times that he now spends most of his days dicking around with his new iPhone. "I haven't read a word for two months," he said. "I pull this thing out and play with it."
There's something of this laxity in "The Web," Jon Kessler's new show at the Swiss Institute. Not that that's the first thing you notice, because otherwise it's chaos. The installation assembles Apple devices and advertisements, televisions, machinery and yarn—a literal web of it that drips down from poles—into a pop culture assault. Three bearded mannequins in hoodies bearing the word "Brooklyn" lounge about the space: one looks at photos on an iPad, another iChats with visitors at the other end of the room and the third masturbates in a corner. There's a panopticon-like device around which cut-out figures from Verizon ads smile and speak on their phones, and all these elements are united by the blue thread hanging over them all, which emerges from a working loom that Mr. Kessler built himself.
Each inch is an information burst. Mr. Kessler's installations are always custom-fit to the environment, which usually means that he works right up to his deadline. "And after, usually," he said in an interview at his Williamsburg studio. He smiled in a way that showed it doesn't always please everyone.
As a system, "The Web" feels more stationary than Mr. Kessler's previous works. Shows like "The Palace at 4 A.M." at PS1 in 2005 and "Kessler's Circus" at Deitch Projects in 2009 had plenty of kinetic sculptures, and he was previously known mainly for such constructions—which you couldn't call Rube Goldbergian, because his drawings were always linear and Mr. Kessler's work tends to close the loop. Steam in Stereo (1990), for example, uses a toy train to turn a phonograph that then plays an LP of locomotive sound effects through a speaker at its base. Mr. Kessler learned to make these devices at electronics stores on Canal Street shortly after he found his studio in 1980. He'd buy the owners a beer and they'd teach him how to make dynamos.
In "The Web," the dynamism is fake. The energy comes entirely from the weird thrill we all get from seeing Apple products. Not much moves, beyond the loom, the prism in the center, the masturbating mannequin and the other one that, with great realism, swipes lazily at his iPad.
"It's less about the conquering of space through movement," Mr. Kessler said. There are still moving pieces, and live feeds that force a viewer to seek the point of origin, but, he said, "the mechanisms themselves didn't necessarily warrant the active hysteria that my other shows have had in the past."
"The Web" is a commission for the Métamatic Research Initiative, a collectors' institution dedicated to the legacy of kinetic artist Jean Tinguely. It took two years to complete, the longest Mr. Kessler has ever spent on a work.
He has the proposal on a wall of his studio, and it's not much more than the yarn and a few figures underneath (the webbing was inspired by David Fincher's Alien movie). Apple came into the project much later. Mr. Kessler was looking through Verizon ads for the prism around the time that Verizon started to carry the iPhone, which got him interested in the aesthetics of Apple.
"I realized that the design of Apple is so easy to use as a readymade because it's so fucking precise," he said. "It's so perfect, and the ads are perfect, and the marketing campaign is perfect, and when they take over, when they do release a new iPad, it's a fucking blitzkrieg everywhere you go.
"It's like shooting fish in a barrel, in a way," he said. Why create a new language for slick and pervasive surveillance when one already exists and chirps in our pockets every day?
As visitors enter "The Web," they're encouraged to download an iPhone app by interns stationed at a "Dunce Bar" near the entrance. The app allows them to take pictures that then appear on monitors around the exhibition.
This leads to a hall-of-mirrors effect, especially when it's combined with the various live video feeds around the show. There are straight videos and iPhone television spots that have been cropped of all substance but the hand and the device, which make it appear as though anyone walking before one of those input cameras is in the advertisement. All of this is profoundly disorienting. The only real point of reference is yourself, and you don't end up seeing yourself often enough to determine most points of origin. "Adamantly opposed to Baudrillard, who maintains that 'reality is a total artifice,' 'all our values are simulated,' and everything is 'a game,'" Jerry Saltz once wrote in The Village Voice, "Kessler essentially says, 'All of this, simulated or artifice, is all too real.'"
Mr. Kessler, who was born in Yonkers, started using video after September 11. His first piece in this vein was One Hour Photo (2004), which used a motorized ladder to bring postcards of the Twin Towers right up against a small camera. The image produced on a nearby television was akin to the last thing the hijackers would have seen.
"The Web" features the latest iteration of Mr. Kessler's Global Village Idiot character, who was developed around that time and looks slightly like a Team America terrorist, with his uncanny features and long beard (though one narrative thread in the PS1 show had him shaving and becoming a Republican senator). The Idiot—who in this show is the iChatter, iPad browser and masturbator—is a stand-in for Mr. Kessler, had he "made some different life choices." His face and hands are modeled on Mr. Kessler's, and in this show he is suspended in blue hammocks. "The world is going on around him," Mr. Kessler said. "The world is feeding into his computer, but he's Rip Van Winkle. He's just starting to catch up."
The Global Village Idiot started appearing just when Mr. Kessler reemerged after a 10-year career lull. During the dip, he began teaching at Columbia, which he still does, and started a toy company called Bozart, which made things like an actual dollhouse designed by Laurie Simmons. (That set came decorated with art and action figures based on Ms. Simmons's family, so Girls fans are advised to hit eBay if they'd like a posable li'l Lena).
"Basically it was just not an easy time for a second-tier '80s art star," Mr. Kessler said.
When he did bounce back, with the help of Jeffrey Deitch (who became director of the Los Angeles Museum of Contemporary Art in 2010 and is, as it happens, the Swiss Institute's landlord), his work went from sculpture to environments, if that's the word for pieces on such shaky ground. I spoke to someone recently who bemoaned missing the opening of his last gallery show at Salon 94, "The Blue Period," because a fun part of any Kessler show is going when it's crowded and it's hard to tell if that person on the video screen is a model from a magazine or someone in the room with you. At PS1 in 2005, a video mimicking the smart bomb footage we used to see during the second Gulf War had Mr. Kessler targeting a section of Long Island City and blowing up the museum.
You have to know what you're getting into when you enter that world. You enter "The Web" only after walking past a number of MacBook Pro ads with the screens removed and an iPad billboard with just the frame intact.
Mr. Kessler reached out to a friend in the upper echelons of the Apple organization to get high-resolution images for his billboards, then decided to shoot his own fake campaign because he worried about everything going all Richard Prince. "That's not an interest of mine," he said, "to be living with intellectual property lawyers."
He was surprised at how difficult it was to nail the angles and the tone. With the
iPhone ads it's a bit easier, because it's essentially just the way someone observes things through his or her eyes, but the iPad ads sell an entire lifestyle. The person might be on a couch or at the beach and is almost never black. Generally the iPad ads include a bit of a body along with the entire device. Mr. Kessler had to use Photoshop to obtain this effect in his ad. "There's no other way to do that," he said, "without cutting someone's head off."
dduray@observer.com