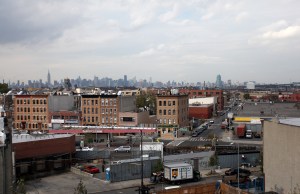 The Williamsburg and Greenpoint rezonings in the 2000s allowed for tens of millions of square feet of new residential development—between 30 million and 32 million square feet, Vicki Been at NYU's Furman Center told The Observer—but for developers looking to meet the torrent of demand flooding into northern Brooklyn, it hasn't been anywhere near enough. Builders have been pushing into Bushwick for years—the last market cycle saw new development as far down the L train as the Halsey stop. Now, builders are starting to return to the frontier and the neighborhood, it seems, is ready to push back.
Councilwoman Diana Reyna said in October that she was ready to see the neighborhood rezoned to prevent the sort of luxury development that has washed up on the shores of Williamsburg, and now Brooklyn Community Board 4, representing Bushwick, has weighed in in favor of a rezoning as well.
"To help manage the growth and rebirth of the neighborhood," the members of CB4 wrote to Councilwoman Reyna, "we feel the time is right to begin rezoning," as reported by DNAinfo. The specifics of what they are asking for are unclear, though they did mention "down-zoning" and referenced the recent Bed-Stuy rezonings, which have for the most part restricted development in the neighborhood. Community Board 4 did not respond to The Observer's request for comment.
If the downzoning happens, it would continue the Bloomberg administration's strategy of focusing northern Brooklyn's growth on the waterfront, while limiting development in the built-up neighborhoods farther inland, leaving these vast tracts of land more or less as they were a century ago.
While anti-growth sentiment is strong in northern Brooklyn, those in the real estate industry remain skeptical that restricting growth would keep rents from rising or produce more affordable housing—the goal of Bushwick resident Rolando Guzman of Greenpoint- and Williamsburg-centric St. Nick's Alliance, who told DNAinfo, "The last thing Bushwick needs is high-rises. It needs affordable housing."
"I'm a big proponent of affordable housing," David Behin of MNS brokerage told The Observer. "But there's already a mechanism for affordable housing to come into the neighborhood." Mr. Behin, who runs MNS's investment sales and advisory division, was referring to the city's 80/20 program, which gives developers tax advantages and density bonuses in exchange for renting 20 percent of a building's units at below-market rates.
"Almost every developer I speak to, whether it's 10 to 15 units up to 500 units," said Mr. Behin, "they are all strongly considering doing 80/20s, and many, if not most, are "going forward with the program."
Matthew Cosentino, who works in investment sales at TerraCRG, was not ready to take a position on whether the neighborhood should be rezoned, but he was skeptical that clamping down on development would stop the upward march of prices. A rezoning, he said, "would affect how the area develops, but not what's happening in terms of the gentrification."
"We're kind of at a nice point right now where although prices have gone up," Mr. Cosentino continued, "it's still working okay for a large group [of longtime residents]. But I don't think it'll last forever, and I don't think the downzoning will change that."