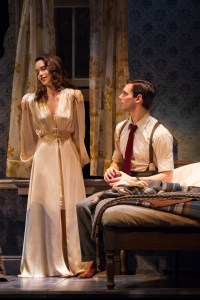 Don't go to Hands on a Hardbody, the new musical at the Brooks Atkinson imported from a critically praised run in California, expecting titillation (the hardbody is a red pickup truck) or a revelation in contemporary musical scoring. The songs are, with a few exceptions, negligible (i.e., forgettable). But I promise you a better evening than Breakfast at Tiffany's. But we'll get to that.  
The setting for Hands on a Hardbody is the Floyd King Nissan Dealership in Longview, Texas, where 10 contestants whose names have been drawn from a hat are living out what's left of the dying American dream in a contest that will redefine their lives. The rules of the game require all 10 people to keep one gloved hand on the chassis of the $22,000 truck at all times, day after day on the asphalt under a broiling Texas sun, in a marathon that few people have the stamina to survive. The prizewinner is the competitor who keeps a hand on the hardbody the longest. It's a challenge to see who gives in or gives out first: the contestants or the audience. The evening sometimes seems like an endurance test, but as written by Pulitzer Prize winner Doug Wright (I Am My Own Wife, Grey Gardens), before the evening ends you will get to know every man and woman onstage. I liked them all.
Who will win? Will it be Keith Carradine, heading a big cast by today's economically stressed standards, playing a senior citizen down on his luck who lost his job, pension, life savings and masculine self-confidence after falling off an oil rig? Feverish, addicted to painkillers and held together by pins, he fights sleep, buckling knees and rusty joints to win the only thing left, when all else fails, that can still prove an old Texas longhorn's manhood. Or will it be the tattooed, muscle-bound Marine who went to Afghanistan a 98-pound weakling and came home with his dreams crushed, his mind altered and his hopes dashed? There's a woman with too many mouths to feed, and two young adults with no future who plan to sell the truck and use the money to finance their way out of a dead-end life, and a touching Mexican boy who needs the money for tuition to veterinary school but stands to lose because of racial profiling, although he was really born in Laredo, Texas. There's even a cheater in the group—a sexy blonde who waits tables at the Rib Shack barbecue and breaks the rules with pep pills to stay awake, supplied by the married but oversexed car dealer. I found myself rooting for them all.
One by one, they tell their stories in text and song: "If you live in the North, you can drive a sedan … But if you live in Texas and you don't have a truck … Buddy, you're stuck." The highlight in Act One is a raucous gospel number, "I Feel the Joy," by an overweight religious wife and mother touched by the Holy Spirit. Beginning with a low chuckle, she builds to a state of total hysterics, culminating in a rhythmic gospel chant that rocks the stage and stops the show. In Act Two, Mr. Carradine gets the best song in the score, "Used to Be," a disillusioned indictment of the Walmarts, Pizza Huts, Wendy's and automotive repair shops that litter the American landscape ("It looks the same everywhere you roam … How do you know when you get home?"), and a poignant lament for the character that illuminated the country in the good ol' days before things changed. Good lyrics by Amanda Green.
Hands on a Hardbody is entertainment, but it also examines some of the reasons for cynicism in the rusty, burned-out junkyard that symbolizes hick-town America today—child support, bankruptcy, unemployment, obesity, the death of optimism. Real contests like the one depicted here (the show is based on a documentary film by the same name) are frequent throughout the country, especially in the South. Doug Wright, a native Texan who was born a few miles from Longview, knows the territory, and director Neil Pepe brings it to life perfectly. The car dealership is a canvas of empty-headed, rear-ended despair as authentic as a truck-stop Shoney's. (It takes someone who's been there to depict a Nissan dealership with a picture of Matthew McConaughey hanging in the ladies room.) The hardbody is a honey—it revolves, giving all 10 actors an equal opportunity to face the audience. The pop-rock-gospel-country-and-western songs are not my favorite kind of music. For someone weaned on Rodgers and Hammerstein, I longed for just one song that sounded like "Oh What a Beautiful Morning." But everything grew on me, and some of them are very appealing.
They make musicals out of anything and everything these days, but this is the first time I've ever seen one about a red pickup truck. It may seem like an odd recommendation, but I left Hands on a Hardbody reminded of Alexandra Del Lago in Sweet Bird of Youth, when she awakens from a hashish slumber, peers through her glasses at the body she spent the night with, and says, "I've seen better … but God knows, I have also seen worse."
Quit stalling around and let's cut to the chase. No Audrey Hepburn, no Holly Golightly. The proof lies onstage at the Cort Theatre, choking on flat, leftover, room-temperature champagne from an old party that goes down like cough syrup, in a misguided and charmless attempt to resuscitate Truman Capote's magical 1958 literary sensation Breakfast at Tiffany's. It fails on every level. How many ways can you spell d-i-s-a-s-t-e-r?
Poor Truman. His bubbly little allegory about a deluded runaway hillbilly named Lulamae Barnes from Tulip, Texas, who invests considerable time, energy and other people's money reinventing herself by making New York her oyster, has never worked anywhere outside the exclusive splendor of the author's own extravagant literary imagination. An aborted TV pilot with Stefanie Powers failed, as well as an earlier production in London with Anna Friel by the current director, Sean Mathias. And we won't go into what Edward Albee did to the musical version with Mary Tyler Moore in 1966 (a flop so dismal that David Merrick closed it down only days before its scheduled Broadway opening). I saw the final historic preview at the Majestic Theatre, where it was loudly booed by a sold-out who's-who of Broadway luminaries, and I will never forget brave, desperate Mary singing the mournful title song in a prison cell, strapped to the bed with the shadows of window bars across her face. And it might seem like sacrilege to some, but Capote himself hated the popular 1961 movie in which the jackhammer thud of Blake Edwards's direction substituted vulgarity for the author's original wit. The movie didn't have much of the author's sparkle left, but it did have Audrey Hepburn, who made even the dark side of Holly Golightly seem like an elegant Givenchy gamine who turned Woolworth beads into Tiffany pearls and dressed up for heartbreak with her stocking seams straight.
And now we have the worst of them all: a cardboard Holly Golightly with no personality at all. Originally created as the eccentric, glamorous embodiment of a gay man's fantasy—Capote's version of Christopher Isherwood's Sally Bowles—she's got such a parade of men with rent money staggering drunkenly in and out of her brownstone bedroom that playwright Richard Greenberg has turned a once-vulnerable party girl with real fun in her fake laughter into something pathetically bordering on a neurotic slut. Her adaptable system of screwy values is still viewed with unrequited longing by the gay upstairs neighbor she calls "Fred" after her brother who died in the war (the whole thing is awkwardly set in 1957 but related, in flashbacks, to World War II). The struggling writer and wannabe Capote stand-in is reimagined as a bisexual preppy who works on his seduction technique in a naked bathtub scene so gratuitously pointless that it inspires gasps and giggles. The casting is catastrophic. Pretty Emilia Clarke still gets the "mean reds" when something bad is about to happen, but she doesn't know what it is, and she still strokes her stray orange tabby called Cat. ("Poor slob with no name," she shrugs, reluctant to commit to anything, including a pet.) She still visits the gangster Sally Tomato in Sing Sing for illegal drug smuggling activities disguised as weather reports, crawls up and down the fire escape in a towel and even sings a song, but it ain't "Moon River." As Fred, the callow and anonymous narrator of this memory piece, Cory Michael Smith is a handsome, versatile and appealing actor (memorable in the controversial British import Cock, bastardized on this side of the pond as Cockfight Play) who finds himself hopelessly rowing through a sea of mud with no oars—thin as a Q-tip and sexy as a turnip. He works up a sweat trying to impart some blithe notion of Capote's capricious style, even appearing stark naked. But how can you act while you're busy covering up your family heirlooms with your bare hands?
The outline of the plot vaguely follows Capote's novella, but the Richard Greenberg adaptation is heavy as cement. Strains of '40s tunes like "Don't Sit Under the Apple Tree" float through the air without any sense of time or place. Without Capote's deliciously parsed but always decorous prose style, the noisy, drunken visitors and eccentric neighbors just seem contrived, while the dialogue comes out alarmingly superficial. With no trajectory, it's an evening about people saying things—words strung together to form an empty, silly, meandering narrative. Nothing works. It's a musical with all the song cues and no tunes. You go away depressed, which—trust me on this—is not what Truman Capote had in mind.
"Time continues to pass—without meaning," Fred reads from his journal. Yeah, like Breakfast at Tiffany's.
rreed@observer.com