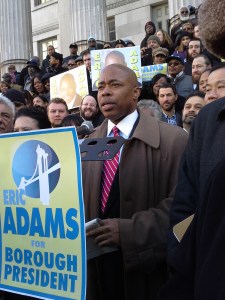 State Sen. Eric Adams launched his campaign for the Brooklyn borough presidency yesterday morning with almost the entirety of Brooklyn's Democratic establishment at his back.
"Brooklyn is the greatest place on Earth because of the strength and love that its people are willing to pour into it," said Mr. Adams as he stood on the steps of Brooklyn borough Hall. "It's no wonder, when you ask a person that is from Brooklyn and you say, 'Where you from?' They don't say New York City, they say, 'We're from Brooklyn, baby.'"
Mr. Adams also struck a more sober tone in his address to throngs of cheering supporters, calling for a more responsive government, affordable housing and better economic prospects for the borough's poorer residents.
"I know Brooklyn well. I know it not because I sat down and read about Brooklyn in a newspaper, but because I put on a bullet-proof vest for 22 years to serve this city," Mr. Adams, a former police officer, said. "And that desire to serve and protect stuck with me. The idea that government can be proactive and not reactive. The idea that there is more to improving safety and the quality of life than being simply a deterrent to violence and disorder. There's a better way, where government is not a punisher but an organizer."
Recently endorsed by both the man he's vying to succeed, Marty Markowitz and his one-time prospective foe, Councilman Domenic Recchia, Mr. Adams now faces little opposition in his bid for the borough presidency. Only former Councilman John Gangemi, whom Kings County Democratic Party Chair Frank Seddio described as "not a credible candidate," currently stands between Mr. Adams and Borough Hall.
In addition to the black political establishment, leaders from the Jewish, Russian and Hispanic communities turned out to back Mr. Adams, possibly serving as a show of force to potential candidates who may still contemplate challenging him. If he wins, Mr. Adams would be Brooklyn's first black borough president.
"Eric Adams sees people for what they are. He knows that he has to work with people of all different backgrounds," said Manhattan Borough President Scott Stringer. "The rainbow that he's put together today is a rainbow that is about governing, it's about being thoughtful and it's about raising the level of debate in the city on crucial issues."
In another nod to his status as an overwhelming favorite, Mr. Adams was joined by a pair of rival mayoral candidates, Comptroller John Liu and Public Advocate Bill de Blasio.
"First President Obama got a mandate from the American people," Mr. Liu told the cheering crowd. "Now Senator Eric Adams is going to get a mandate from the people of Brooklyn!"