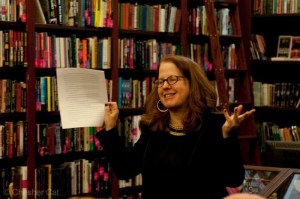 At The Mysterious Bookshop in Tribeca last week, Nancy Bilyeau, a former editor at Entertainment Weekly, stood before a roomful of people to read from her new novel, The Chalice, a 16th-century historical thriller set in Tudor England and a follow-up to her first book.
Everyone had gathered to fete Ms. Bilyeau, now executive editor of DuJour magazine, and possibly welcome her to the crowded pantheon of EW alumni who have gone on to publish acclaimed books. And there are lots of them. Gillian Flynn (the author of Gone Girl), A.J. Jacobs, Ty Burr, David Browne and David Hajdu all worked at EW during the magazine's halcyon days in the '90s and early aughts.
"You wouldn't think that a bunch of magazine people would move into books," Ms. Bilyeau told us, adding that she suspected there was a truth to be found in the mainstream, in the meeting place between high- and lowbrow.
Was there something about working at a pop culture-obsessed magazine that makes its writers and editors uniquely capable of writing popular books, we wondered?
"I think there is something to that," she said. "It makes you aware of a mass readership's interests in a clever way. There was a mainstream element to it, but done cleverly."
Ms. Bilyeau also attributed the success of EW's writers to Jim Seymore, the former managing editor who came in after Jeff Jarvis, the founding editor. Mr. Seymore was a big influence on many EW writers, Ms. Bilyeau said.
"He trusted his staff to do their own things and develop their own voices," Bruce Fretts, articles editor of  TV Guide Magazine and an EW alum, said at the event. "People were encouraged to develop their own styles."
Mr. Seymore couldn't make it to the book launch, but he spoke with us on the phone the next day.
"EW was always a writer's magazine," he said, "much more so than most Time Inc. publications."
Right before our chat, Mr. Seymore said, he had counted off the top of his head 22 EW writers who had written books. And while he wouldn't take full credit for the phenomenon, he explained how he got his writers to hone their skills.
"The only thing I tried to instill was, when I first got there, I found that the writing style was pretty insular, and that they were trying to impress people with how smart and hipper-than-thou they were. I tried to tell them to write as if you're talking to your best friend from college," he said. "And that's what happened."
But the EW glory days are long gone, as the magazine has lost its luster over the past decade, and so has the company that publishes it, Time Inc. After talks to sell the company's publications–including People and InStyle–to Meredith Corp. fell through, it was announced the day of Ms. Bilyeau's book launch that the magazine division of Time Warner will be spun off into an independent, publicly traded company by the end of the year.
At the event, no one really mentioned the news.