And while it must be said that Mr. Coates's memoir, The Beautiful Struggle, fails in pulling off the delicate balance between remembrance and braggadocio, the book does advance a theme that has underscored much of his work—that the dismissal of hip-hop as merely "a symbol of the decline of the West if ever there was one," as the National Review recently argued, is only a subtler form of the same lazy ignorance that runs through centuries of racist stereotypes of young black men.
"I learned about writing from hip-hop," he said. "More than any books I've ever read, hip-hop's use of language and sense of geography influenced me—there is something about the condensed space that music forces you into."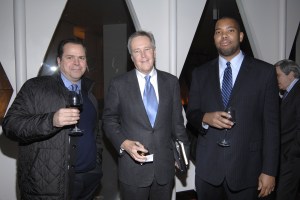 But he is no music critic. Mr. Coates's writing about hip-hop is normally a segue into his main subject: race. In a February Times column, he suggested the White House study the rapper Kendrick Lamar's new album as a way to understand the effects of gun violence, among the most unlikely public policy proposals of recent years. But Mr. Coates bristles at suggestions that race is his beat. "I think I write about America, and about things that interest me," he told The Observer.
When The Village Voice asked Mr. Coates to write a column about black men, he objected. "The moment you put that upon yourself—'black correspondent'—that's always with you, you never get rid of that," he said.
Still, racial issues are what Mr. Coates writes about most, and what he is best known for. Everything Mr. Coates has written for The Atlantic's print magazine, for which he serves as senior editor, has regarded race in one form or another.
Perhaps his best-known piece is a 10,000-word article called "Fear of a Black President," about Barack Obama's inability to mention race without alienating white voters. It snakes through the importance of Mr. Obama's presidency for African-Americans while showing the limitations of that achievement. The article "had the kind of impact for which magazines hunger," wrote a blogger at Harvard's Neiman Foundation.
For Mr. Coates, the job of the writer, even the pundit, is not to persuade. "The job of the writer should be one of humility, I think, one of being ignorant and learning—not to stand up and pretend to know everything," he said. "I'm not a consultant or a race expert."
Indeed, Mr. Coates is particularly anxious about being seen as some kind of black spokesman. And even Stephen Colbert poked fun at this idea when, in January, Mr. Coates appeared on The Colbert Report and the host asked him: "Are you guys still all excited about this first black president thing, or have you gotten over that?"
Mr. Coates says he is uninspired by the emails he receives telling him how his writing has helped someone win an argument. "That ain't my burden. I don't write to help others with their racism, and I'm not here to educate you," he said. "I'm here to be insanely curious."
It's not hard to see how Mr. Coates's sphere of influence has grown along with his outsized online community. Some even say he has redefined the blogging form. "There's really nobody else who does what he does, in terms of creating a community of people around his blog," said Mr. Carr. "He does a ton of moderating that blog and putting in time with it, and it's become a self-policing community, which is really remarkable. He goes where he wants to go, and the community goes along with him."
According to Natalie Raabe, communications director for The Atlantic, it has "by far the most engaged community in our comments section."
If Mr. Coates is notable for popping into his own comments section to praise or criticize posters, it's because he has a distinct vision of blogging. "It is its own space; it's not the entire web—there are plenty of places to go if you want to do other things," he said. He gestures to the establishment we're in. "This is an individual place—if you started yelling in here or screaming that they need to be serving chicken if they don't want to, they'd kick you out. They have the right to be their own spot."
And yet the blog might end soon. "Managing a community is tough," Mr. Coates admitted, adding that he'd like to be able to just be a fan of things without feeling the need to constantly comment. "I'm leery of talking too much—I feel like I need to sit with an idea for a year or two if I want. Isn't that what a writer's supposed to do?"
Mr. Coates is currently finishing a novel on the Underground Railroad and will soon be submitting to a publisher a book of essays about the Civil War, a subject he has been infatuated with on his blog for five years.
And blog or no blog, Mr. Coates is likely staying at The Atlantic. The Times asked him to become a regular columnist, but Mr. Coates rejected the most coveted real estate in American journalism. He would not comment on the matter, but recently wrote on his blog about the difficulties of writing a twice-a-week Times op-ed column. He suggested that he would be taxed writing so frequently at such length, and feared his writing would suffer.
"I won't go so far as to say I'd fail," he wrote. "But I strongly suspect that the same people who were convinced this would be a perfect marriage, would—inside of a year—be tweeting, 'Remember when that dude could actually write?'" Of course, that humility is exactly what makes readers want to see Mr. Coates on the op-ed page twice a week. The fact is, wherever he writes next, the man has arrived.