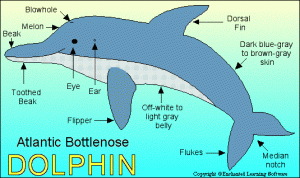 We were excited/saddened to learn about the dolphin frolicking down the East River yesterday. Saddened, because the life-span of dolphins hanging out in New York's rivers and canals of late has been super short, but excited, because this dolphin, unlike the one in the Hudson in 2011 or the one in the Gowanus Canal in January,  appeared to be relatively healthy. The Times is on it:"Just a dolphin swimming through," a (police) spokesman said. "It is not in distress and we did not aid it." He added, "Why would we pursue a dolphin?"
Right you are sir! Tally-ho! Let the bottlenose go!

Of course, those bummers at New York Magazine had to point out that just because it appears healthy doesn't mean the sea mammal actually is healthy. "
Kim Durham, the rescue-program director at the Riverhead Foundation, tells the Post, "He's not a healthy animal, but he's not at death's door. He's thin, but he's swimming very well."
So is the little guy healthy or unhealthy? And either way, shouldn't somebody *achem*RIVERHEAD*achem* be trying to secure transportation for Dorito 2 out of the second most filthy body of water in NYC?