These questions regard last night's episode of HBO's Girls. Please answer the prompts with specific examples from LAST NIGHT'S EPISODE, though supplementary material will be accepted as a secondary source. Please write legibly. No. 2 pencils only. You have an hour to finish this test. See below for questions and sample responses.

EDITOR'S NOTE: Please welcome The New York Observer's recap illustrator Alex Bedder as tonight's visiting scholar-in-residence of Girls studies. Alex Bedder comes to us as an associate professor of pop culture from Paper magazine university, and is the author of a New York Times best-selling Tumblr. Catch his Grammy-winning* podcast, "Let's Talk About It Pod."
1. This episode seems to be following last week's spiraling dark tone of the show. I never thought I'd say this, but I long for the days when Marnie making out with Jessa was the worst thing that could happen in a Girls episode. If you were comparing the two seasons together, which of these analogies make you want gnaw your wrists open the most, and why?

A) Picking splinters from your ass is the new eating cupcakes in a bath.
B) Black Swanning your ear drum is the new overdoing it on the eyebrow pencil.
C) Falling off the wagon and practically date raping your new girlfriend is the new accidentally smoking crack and massaging Ray's penis.
D) Charlie's "Let's fuck in the middle of my office party" is the new "Let's fuck and pretend you are a child with a Cabbage Patch lunchpail."
E) Shoshana is the new Marnie.
F) Marnie is the new character that we secretly adore because she just puts herself out there and is so cute with her cover songs.
Tonight's dark-sided episode was a buffet of cringe-worthy moments, and there were several that made me get up and sit behind the couch for a second, a method of handling discomfort I perfected as a child by not being able to watch that scene in Titanic where the ships crew assumes Jack assaulted Rose.
All of the analogies make me miss those simpler times of confronting your gay ex-boyfriend about contracting HPV so much that it's almost too hard to choose! Because I did not secretly adore Marnie's Karmin-esque cover of "Stronger" (that could just be attributed to a personal fear of impromptu musical performances), and even though the concept that Shoshanna is the new Marnie is almost as bad as finding out a new character is BOB on Twin Peaks, it really comes down to Hannah's self harm via Q-tip and Adam's sex scene as the analogies that made me want to gnaw at my arm like I was in 127 Hours.
Adam's boozed up, watch-it-with-one-eye-open self-destruct with Carol Kane's daughter from Roswell seemed to be just looming from their vanilla post-Sandra Bullock movie-night hookup. Comparing Natalia learning that Adam may not be out of place in his "dark" apartment to Ray discovering just how quirky and engaging Shosh is while she was tweaking out of her mind was is a pretty devastating thought. However, I'd have to go with just misuse of the Q-tip as the worst bite-your-wrist moment, because it makes me miss when the worst thing Hannah used to do to herself was not being able to say no to people who'd make her look like Bon Qui Qui.


2. Two out of three of Hannah's health care specialists (save last week's therapist) have been Indian-American and kind of mean. Does this count as diversity or stereotyping? You may answer the question culling from Dunham's real-life experiences as we know them, save for that shit going down at Oberlin right now, which has nothing to do with Girls; seriously, are you people insane?
You could read it as stereotypical that both of these characters are Indian-American, which is more in line with the arguments from the first episode regarding the Asian girl who knows Photoshop and the appearance of an African-American homeless man. If a minority is cast in these contained, one-off sort of roles, does it appear as very stereotypical? Did we raise the same question (diversity or stereotyping) with Donald Glover's Sandy the Republican or last week's Radika, "the wealthiest Hindi that Shosh knows"? It could be that these smaller roles make us more unsure of which end of the spectrum these characters fall into, while a character with however much more to do is easier to make a call on.
In regard to them both being seemingly rude to Hannah, I think that has more to do with her presenting them with a juvenile and awkward situation. The doctor in this episode was dealing with an unhinged 20-something who had lodged a Q-tip in her ear canal, and in her first season visit to the clinic she basically told the health care professional who was about to test her for STDs that she wanted AIDS. In my experience if you do or say something incredibly stupid regarding your health, a health care professional sets you straight.
3. What throwaway comment best reflect 2013's New York/Brooklyn douchebag scene thus far?
1) "Sandra Bullock or whatever is really charming. I only wish the best for her."
2) "Restaurants are my passion. Going out to dinner is just part of who I am."
3) "Marnie told us about the AMUs. We are both exceedingly happy for you! Oh my god, twenty thousand? That's like, insane.
4) None of the above/choose your own.
Things to consider: The feasibility of Oscar-winning actress Sandra Bullock starring in a rom-com this year (or anyone outside of Ryan Reynolds saying they "wish the best for her"); the pronunciation of M-U-A as AMUs; foodies being the most despicable breed of self-describers on the planet.
…Bonus 3.5. Sorry, just remembered three more lines that were so dead-on in capturing the actual voice of this generation: "I dabble in the Macintosh Arts"; "How pissed are you for missing the game?"; "Except Mother Teresa never blew my cousin. But seriously, we love this girl!"
I haven't been actively rooting for Sandra Bullock since While You Were Sleeping, so I would almost go with Adam's newfound appreciation for her. But really, can you get more douchey than asking why your significant other is catering to you by referring to their adorably neurotic behavior as "geisha shit"?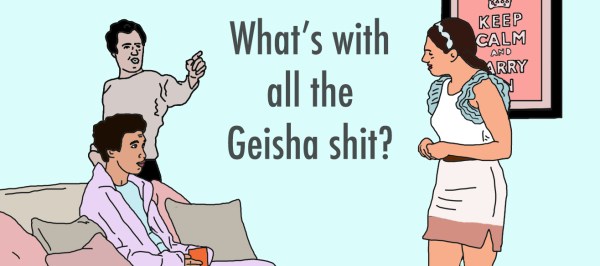 4. John Cameron Mitchell has some great lines this week as her e-book agent (publisher?). "I can't wait to not read those." "Where's the sexual failure, where's the pudgy faced slicked semen and sadness?" "I just had an epiphany, if you aren't getting fucked, make it up. Can you make it a novel?" Not to mention an Anaïs Nin/Jane Austen literary scolding from a guy whose morning read consists of "Kardashian Splashin'" and wants to name Hannah's book "Life on My Back." Though Hannah took it to an extreme, the desire to "empty out" after such a foray into the post-Frey publishing world would be natural. What would you suggest for purging those bad feelings?
4. Nothing quite as toxic and icky as watching John Cameron Mitchell's publisher ordering his twinkish assistant to stop working out before prompting you to dish about your awful sex with a teenager. Legal or not? Who knows! Who cares! That's what people want to hear! Lindsay Lohan in The Canyons is going to be great!
There's many ways that Hannah could relieve the negative feelings she is harboring after that meeting that don't involve jamming a foreign object into her ear. Compared to that, even getting hammered before five is a healthier option. Obviously talking to a friend, or that therapist from Waiting for Guffman, would also be an excellent purging option, but since she's avoiding her issues, also very unlikely. I know the responsible answer would be exercise, or meditation, or volunteering, or shopping, but for Hannah I'd recommend she just get a piece of cake, fall asleep on the F, and eat on the beach for a bit.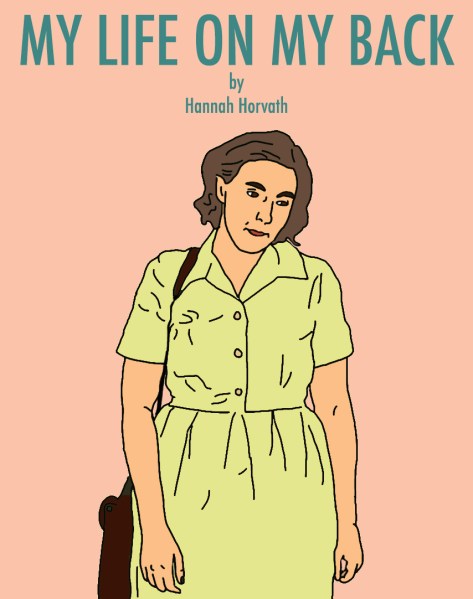 5. Marnie's trajectory this episode can be read as either "flailing" (by Charlie and Shoshanna), or a positive life choice (as seen by Marnie and Ray). Like objectively? She's definitely doing better than Hannah or fucking Adam's impression of a Williamsburg boyfriend on a very special episode of Law & Order: Special Victims Unit. Is she really being delusional about her singing career–a fucking bassoon? Kanye?–and if so, does it matter if it makes her happy? Basically, how should we read her statement to Charlie: "I'm really good, actually. And sometimes being good all the time feels really bad."
There's been some discomfort about Marnie pursing a singing career, mostly because you know Allison Williams can actually sing from when she put lyrics to the Mad Men theme. I've been steadily wondering if this will be some out-of-nowhere redeeming arc after breaking down Marnie for so long, or if this whole being a singer is just the final dive before a dangerous mental breakdown. You almost can't tell if she's completely delusional yet–is the room's response to her cover an indicator that she's just, as Charlie puts it, not that bad, "but not good," or that she should just stick to Norah Jones or a good Corinne Bailey Rae tune?
In the end, it does not really matter, because she's just happy doing something she wants to do. And not "just happy" in the way that she's let go of her ambitiousness and become more aware and complacent. Taking up performing has only made her more self-involved. (She did hijack the party that was celebrating the success of ex-boyfriend's app that was created to avoid her. The ENTIRE night was about her, in multiple layers.) But now instead of being driven and self-concerned in relationship to something that she thought she needed to do, it's toward something she enjoys doing. She's totally comfortable with commandeering the party, and it maybe not going over so well. Being kind of a mess makes her feel good, while while being "good" and put together all the time can be exhausting and disappointing.
*Web edition