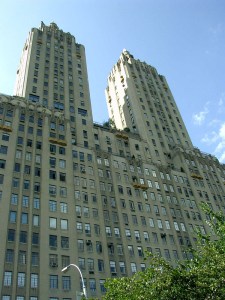 The El Dorado (our sincerest apologies to the Spanish language) was home to one of New York's cattiest co-op dramas of 2012, when the co-op board took heiress Diane Wells to court over her formidable smoking habit and fumes they claimed were leaking into neighboring ninth-floor units through a gaping hole in her apartment. "On multiple occasions," the complaint read, "the cigarette smoke and odor [have] filled the entry halls on at least the ninth and 10th floors of [the] building, requiring shareholders to traverse a cloud of smoke between the elevator and their apartment entrances."
Though the board ultimately succeeded in forcing Ms. Wells to allow repairs to her apartment, the board was not able to get her to stub out her cigs—something that apparently didn't worry Gretchen Pusch and Richard Bayles, who just picked up a classic six on the tenth floor for $2.4 million (down from a $3.3 million ask two years ago—so maybe the cigarette issue persists?). The sale was brokered by Daniel Douglas and Eileen LaMorte at Corcoran.
The unit was sold by Toni Pagano Rosenfeld, widow to the late advertising great Ronald Rosenfeld. And Toni herself was no slouch—she was featured in promotional video for Mad Men discussing her work in the industry, where she created Kodak's "Life is short, snap it up" campaign.
While some classic sixes—named after their six rooms, including a kitchen, formal dining room, living room, two bedrooms and a maid's room—have been modified to bring them up to more modern standards, Ms. Pusch and Mr. Bayles's new apartment still has its warren-like kitchen, pantry and maid's quarters. Domestics have, by and large, been replaced by a coterie of part-time staff, so we don't suppose they'll be needing that room for the help. Ms. Pusch—a flutist who once played at Carnegie Hall and now teaches at Julliard—could well use the 7 foot by 13.5 foot room for a practice space, although the neighbors might be extra sensitive to any nuisance after the smoke debacle.
The apartment does contain at least one modern touch: a massive restaurant-sized Garland range and Salamander broiler. Perfect for cooking grilling large amounts of fish, in case the new owners get into a war-of-odors with their downstairs neighbor.