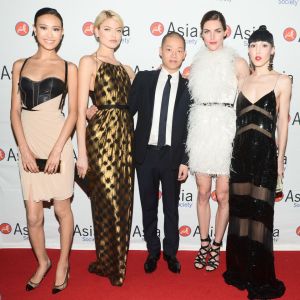 Toward the tail end of cocktail hour at Asia Society's 2013 benefit for the Celebration of Asia Week, Shindigger was chatting with designer Maggie Norris when Jason Wu, an honorary chair for the evening, walked by in The Pierre's garden foyer. Ms. Norris turned to Shindigger and gave us a sly wink.
"I think he's great," she said.
But before additional conversation could develop, we were rudely interrupted by the loud blare of some obnoxious sound. The noise was coming from miniature dinner gongs, and was dutifully ignored by pretty much all in attendance, including Asia Society patrons Charles P. Rockefeller, Chiu-Ti Jansen, jewelry designer Eddie Borgo, Jean Shafiroff and Anna Sui.
"What is that bell?" asked model Jenny Shimizu with justifiable annoyance.
"It's the dinner bell," we explained, all too familiar with the irritation of a gala's mealtime foghorn.
"Ooh," she said, "I've never been summoned before."
"It will be endlessly disregarded," we promised.
Ms. Shimizu, a first-timer at the event, was in attendance as the date of Michelle Violy Harper, the fashion and business maven who was recently profiled by The New York Times's Style section.
On this evening, Ms. Harper sported a sheer, sequined, jet-black frock designed by her friend Mr. Wu.
Shindigger had to know: what was Ms. Harper's reaction to the Gray Lady's March 7 exposé? "It was very positive. I was very grateful," she said with perhaps a touch of apprehensiveness.
Any more of our pesky questions were cut off by yet another chime of an attendant's gong, which was in disturbing proximity to our head. Enough being enough, Shindigger took off to grab something medicinal at the bar.
Inside the hotel's ornate ballroom, we joined other guests who had given in to the gong and were greeted there with much more pleasing sounds: Peter Duchin and his orchestra.
Amazingly, some attendees were already spinning on the dance floor. And so early in the evening! Perhaps they were moved into action by the great talent of Mr. Duchin. Or perhaps they were simply relieved to be free of the gongs.
"It's always a good sign when there's dancing before the main course," laughed Melissa Chiu, director of the Asia Society Museum in New York, during her welcome address.
At table No.1, Shindigger sat alongside famed Chinese artist Qin Feng and his wife, Catherine Lee. "Finally, an artist!" yelled legendary shutterbug Bill Cunningham, as he snapped the painter who posed between bites of sesame-crusted tuna.
It was all smooth sailing until the weather turned unexpectedly windy when the wealthy Dr. Helga Wall-Apelt—her 2006 bequest to the Ringling Museum is rumored to have been in the $50 million neighborhood—pulled a chair up next to Shindigger. The patron and Asian art collector was … well, let's just say she was artfully direct in her opinions.
"How is that?" Dr. Wall-Apelt said, noticing that Shindigger had turned down chef Simpson Wong's main course of Bo Bo chicken with turmeric tamarind sauce for a vegan meal of peas, carrots and penne. "It looks awful!"
Before we had a chance to respond, the septuagenarian demanded more red wine from a waiter and then informed us that this too she found subpar (the wine, not the waiter).
When Mr. Wu took the stage, most of the room fell silent. Not our Helga.
"Stop it! Stop it!" she yelled at us in her thick German-Swiss accent, glaring at our in-use iPhone. Shindigger explained that we record comments on the phone, and we were now missing most of the designer's speech. He finished up and returned to his harem of models, who included Liya Kebede, Shu Pei, Martha Hunt, Elizabeth Gilpin and Hilary Rhoda.
"Years ago, this used to be a very high-profile event," Dr. Wall-Apelt began grumbling during Asia Society Executive Vice President Tom Nagorski's remarks. When the auction began, she added: "Ugh. This is the worst part of the ball."
Shindigger tried to hide behind our awful vegan peas, but to no avail. And pretty soon, the good doctor's unhappiness began to make sense. If you're the sort of person who gives millions to a museum that celebrates clowns being shot out of a cannon, an Asia Society gala could feel a tad stuffy.
We decided we needed some air. Or a cannon. Definitely another drink. Which is when we ran into Cynthia Rowley, who was having a giggle fit.
"I already told these guys," Ms. Rowley said, gesturing toward her tablemates, "when you are at a function like this, you want to lean in and then laugh out the loudest. Then everybody wishes they were at your table."
Shindigger giggled along with Ms. Rowley, while secretly hoping Dr. Wall-Apelt would give in to table envy.
As for the live auction, Sotheby's North American vice chairman of Asian art, Henry Howard-Sneyd, saw to it that a su-misura, personalized-fabric Zegna suit went for $9,000. A five-night stay on a private villa in Turks and Caicos? $26,000.
Gala chair Stephanie Foster and Susan Shin, who served on the gala committee, said the night couldn't be going better.
"This is so fun because it's so diverse," said Ms. Shin, wondering where else foreign policy wonks could mix with supermodels.
Diverse? Maybe too diverse. Exhausted, we crept back to the surreal Werner Fassbinder film still in progress at table No.1.
"Are you going to eat that?" Dr. Wall-Apelt asked Shindigger as we gathered our things. She was greedily eyeing a chèvre Bavarian cheesecake on our plate.
"It's all yours," we told her. Sayonara!