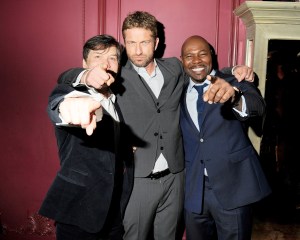 On Monday evening, Gerard Butler stood outside The Darby, waving around a cigarette animatedly, flanked by a model on either side. His gesticulations punctuated his excited rant on why these ladies–who were already at the Cinema Society after-party for his latest film, Olympus Has Fallen–should actually try to see it.

"It's not JUST an action film," said Mr. Butler, which is true. It's technically an action thriller, with the following premise:
Agent Mike Banning (Butler) is a Secret Service agent assigned to Presidential Detail. After a tragic accident, he is demoted and assigned to desk duty. When the White House (Secret Service Code: "Olympus") is captured by a terrorist mastermind and the President (Aaron Eckhart) is held hostage, Banning finds himself trapped within the building. As the national security team scrambles to respond, they are forced to rely on Banning's inside knowledge to help retake the White House, save the President, and avert an even bigger disaster.
In Mr. Butler's mind, this is the equivalent of Sex and the City 3. "I get mad when people say, 'Oh, it's such a boys' movie,'" he said, craning up to face the two towering women who stood a good half a foot above him in their heels. "It's actually quite a chick flick too." We're assuming by "chick flick," Mr. Butler meant that there are women in the film. (Specifically, two women: Melissa Leo and Angela Bassett.)
"It's totally for women," he said, still in pitch mode. "And you don't even have to be American to like it! I'm not, and I liked it."
Fair enough.
When one of the models coyly asked if he'd be bringing a beautiful girlfriend to the L.A. premiere, the suave 300 actor replied, "I don't know, what are you doing the 19th?"
When one of the models coyly asked if he'd be bringing a beautiful girlfriend to the L.A. premiere, the suave 300 actor replied, "I don't know, what are you doing the 19th?"
But Mr. Butler wasn't just a hit with the ladies. He also chatted up Cinema Society founder Andrew Saffir, a longtime friend. "Gerry"—as most of the chummy attendees referred to the actor—must have gone through one too many waters during the film, however; as the night progressed, his trips to the bathroom became longer and longer, until one fan floated the theory that he might have slipped out the back, causing mass panic among the troops of models.
Outside, a group collected, including Mr. Saffir's right-hand man, Shane Kidd, Pravda co-owner James Huddleston and Walking Dead actor Norman Reedus, whose strange habit of introducing every woman as "Potato" led to more than one confusing encounter.
The after-party was on the move, but in order to have a true Monday-night blowout at 1 a.m., it needed two things: a location and glamorous women. Since the latter would only be moved to action if "Gerry" was coming, and seeing how "Gerry" had slipped back into the now-empty Darby to spend another half-hour of quality bathroom time, the outside of the bar began to look like a strange version of a middle school dance: girls on one side, boys on the other.
Eventually Gerry Butler did manage to get whatever it was out of his system and made it back out to the sidewalk, where he announced that he would be accompanying the small band of partiers to The Rusty Knot on the West Side Highway. Sadly, by the time the cabs made the long, seven-block trek to the next location, the bar had already closed. And somehow, Gerry Butler had managed to disappear without a trace.