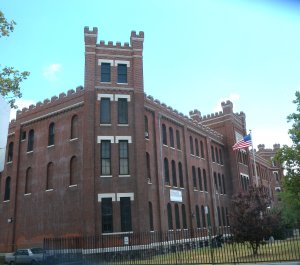 The Satmar Hasidim of South Williamsburg have their own schools, their own ambulance service, their own police and their own courts. And soon, they may have their own armory.
Rumors have been swirling within the community that Governor Andrew Cuomo's office, represented informally by Orthodox businessman Abraham Eisner, is on the verge of concluding a deal between the warring Satmar factions—led by the late Grand Rebbe Moshe Teitelbaum's two sons, Aaron and Zalman—over disputed property.
The two factions, according to the rumors, would jointly purchase the 165,166-square foot, 3.2-acre Marcy Armory from the state, which has been trying to offload the property. The armory would be physically divided between the two camps, though the Zalmanites would pay more than the Aaronites. In exchange, the Aaronites would renounce their claims—claims unlikely to be backed by secular courts—on summer camps in Ulster County and a matzoh bakery on Broadway in Williamsburg.
"These rumors are simply untrue," said Matthew Wing, a spokesman for Governor Cuomo. "No one in the governor's office is involved in any 'deal,' and in reality the armory is going to be subject to a competitive RFP process."
Mr. Eisner hung up on The Observer when reached this afternoon on his cell phone.
The Marcy Armory, a red brick structure dating back to 1884, is bounded by Harrison and Marcy Avenues and Heyward and Lynch Streets. It has played host to many important Satmar events over the years, including weddings and anniversary celebrations of the late Grand Rebbe Joel Teitelbaum's safe passage into Switzerland in 1944 on the Kastner train, escaping the Holocaust.
Additional reporting by Colin Campbell.