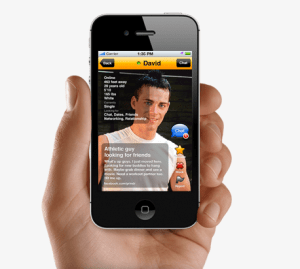 To celebrate its fourth birthday, gay mafia invention Grindr released some important findings regarding its cultural impact on the gay community. Turns out, gay guys love it!
In a press release calling itself "groundbreaking" and a "global sensation," Grindr revealed Monday that it has amassed more than six million users since 2009. What's more, 40 percent of new accounts were created within the last 12 months. However, users who use something beside their torso as a profile pic weren't included in the company's release.
The location-based meetup app also said 90 percent of their horny millennial user base publicly share their location, an option that can be disabled. The survey found that users are "most addicted" to Grindr, along with social networks like Facebook, Instagram and Twitter. Eighty percent of the millennials surveyed also described themselves as oversharers; 71 percent of them are fine in sharing "personal information," like the graphic results from their ab routine, presumably.
Tapping into the millennial mindframe, founder/pioneer/CEO Joel Simkhai said the app has become an "invaluable resource" for bored gay guys waiting around for their OKCupid dates. He also praised the app for disrupting the garish gay club scene, which in the olden times was the only way to meet others DTF.
"Grindr opened up a whole new world for gay men by finally providing a more spontaneous, exciting and instantaneous way to meet guys. Since our launch, and specifically over the past year, our user base has grown exponentially and we owe that to our loyal and engaged users," wrote Mr. Simkhai.
You're welcome, Mr. Simkhai. What kind of Facebook gift would you like for your community service?