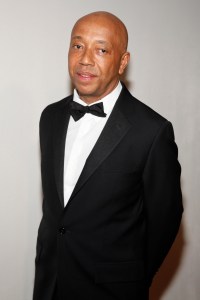 Last Monday, 250 people joined the Transom in Russell Simmons's penthouse apartment in the Financial District, shaking snow and sleet off their fur coats and craning their necks to see over a wall of cameras. Mr. Simmons, the chairman of the Foundation for Ethnic Understanding, was hosting a ceremony to celebrate FFEU's young leaders, and scores of lucky invitees weren't going to let a little weather get in the way.
Benjamin Bronfman, an environmentalist, entrepreneur and musician who's worked with artists like Kanye West and Jay-Z, was one of the evening's five honorees, although he professed ignorance as to what he did to deserve recognition: "What the hell are you honoring me for?" he said.
But good press is good press, and it seemed to come at a good time for Mr. Bronfman: the Seagram's heir had been making headlines the past couple weeks while battling his baby momma, singer M.I.A., in court over their 4-year-old son.
The event also fell on the same day that New York City's fire commissioner's son, an FDNY EMT named Joe Cassano, announced he would resign after the public caught wind of his racially charged tweets, which included such gems as "I like jews about as much as hitler #toofar? NOPE" and "MLK could go kick rocks for all I care, but thanks for the time and a half today."
When asked if such a revelation underscored the importance of a foundation like Mr. Simmons's, the host replied, "I'm not gonna talk about that," and walked away.
"There's ignorance across the board," said lawyer Sal Strazzullo, another of the event's honorees, who was less offended by the Transom's line of questioning.
Mr. Strazzullo, 40, is perhaps best known for handling such high-profile assault cases as those of chef David Burke (and his driver) and of nightclub owner Adam Hock (and model Jessica Hart). He also represented Brooklyn model Ingrid Gutierrez after she was struck by broken glass when tablemate Chris Brown fought with Drake at W.i.P nightclub.
Dubbed the "night-life lawyer" by The New York Times, Mr. Strazzullo is also popular among strippers like Sophia Kandelaki (Scores), Alexia Moore (Big Daddy Lou's Hot Lap Dance Club) and Milana Dravnel, the former mistress of Oscar De La Hoya. Mr. Strazzullo needed some defending of his own when he was sued for sexual harassment by a former paralegal, according to the Times.
(Were all the honorees in need of some character rehabilitation, the Transom wondered?)
Guests drank mango lemonade champagne spritzers and munched on a buffet of bite-sized desserts and hummus. Around Mr. Simmons's home, there were a smattering of gold and copper Buddha statues and a prominently displayed photo of Mr. Simmons with the great spiritual teacher Eckhart Tolle.
When asked how he reconciled the violent and intolerant messages that occasionally find their way into hip-hop with his foundation's main mission of creating peace and harmony, Mr. Simmons responded: "I don't feel I have to reconcile hip-hop with our sexist, racist, homophobic society. This generation is no less gangster than our government. I'll continue to do God's work as I see fit."
Speaking of hip-hop, rapper Q-Tip was also in attendance, but had disappointment written all over his face.
"We have affluent people here, and it's great outreach, but there needs to be more activity. We need to get into the neighborhoods and be foot soldiers," he said. "A 16-year-old boy was just shot in Brooklyn. We're all here in Russell's beautiful loft, and somewhere in Brooklyn a young brother is dead and people are rioting."
To be fair, it was very good hummus.