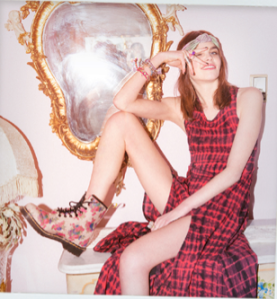 Williamsburg hipsters are very busy these days! Whether it's butchering some kind of heirloom pig or smelting the umpteenth variation on a  V-shaped necklace to sell at Brooklyn Flea, what burgeoning tradesman or woman has time to dig through thrift stores for the perfect pair of high-waisted Jordache jeans or frumpy chic granny sweaters? Not to mention that the neighborhoods' thrift stores have been hopelessly picked over since at least 2005.
Thank goodness Urban Outfitters—and maybe even Anthropologie!—will soon be coming to the neighborhood. The college campus staple and her older, wealthier sister (who's always going off on trips to foreign lands, writing dreamy not-quite-coherent thoughts in her leather-bound diary) are both looking to move into Williamsburg, Crain's reports.
Urban Outfitters has reportedly struck a deal to take over a space  at 102 N. Sixth Street, between Berry and Wythe streets, and Anthropologie is said to be negotiating a deal for a 10,000-square-foot spot at 242 Bedford Avenue.  There are also persistent rumors about a Williamsburg J. Crew, which generated at least a little chain store hate. If J. Crew is still planning to move in, it's not in any rush to do so. Maybe it's because, according to Racked's man-on-the-street interviews last fall, the only residents who seemed psyched about J. Crew's arrival were the old-timers who wanted to be able to buy t-shirts for under $60—something that's been hard to do since the Salvation Army shut down.
Still, it's only a matter of time before the streetscape is transformed by familiar storefronts—Crain's reports that Joe Fresh, New York Sports Club, and Citibank are also potential tenants for the Bedford Avenue complex where Whole Foods is taking up residence. Where hip, high-priced boutiques flourish, national retailers will follow. It's a new era for Williamsburg, one in which rich bankers and rich kids bankrolled by their parents party together at the Wythe Hotel, subtly rolling their eyes at one another.
kvelsey@observer.com