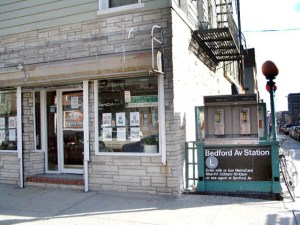 In the midst of yesterday's frenzy of Domino Sugar Refinery-themed press coverage, squished L train riders could be forgiven for asking: how much more development can Williamsburg handle? With only two tracks in a largely quad-tracked system, the L is not as well-endowed as some lines—so how much more Williamsburg can the L really take?
As it turns out, quite a bit.
The L recently underwent an upgrade to its signaling system, with the MTA installing something known as communications-based train control, or CBTC. The installation was riddled with issues, as any nighttime L rider can attest to, but now that it's done, the line's maximum rush hour capacity is up to 26 trains per hour. Not the highest-capacity tracks in the system—the express tracks on the Lexington Avenue line are capable of 27—but significantly more than the 19 trains per hour that currently run during the morning peak, or about one every three minutes. (And this is nowhere near the theoretical maximum capacity of a two-track system—some lines in the Moscow Metro do a whopping 40 trains per hour during rush hour.)
The maximum capacity of 26 trains per hour on the L, a 38 percent increase over current peak service, would require some upgrades, but nothing on the scale of the CBTC installation and debugging that drove L riders crazy for years.
For one, the MTA would need more rolling stock—that is, more trains. The MTA already has an order in for 300 brand new R179s, as the next model will be called, and the 2015-19 capital plan will include an order for an even newer model, the R211. (And while American subways have been reluctant to embrace them, there's always the possibility of buying new articulated train sets, which can hold more people without having to lengthen platforms.)
"And when we get up to a point where we run 22 trains per hour," MTA spokesman Kevin Ortiz told The Observer, "then there's the issue of traction power that we need to address." He couldn't cite a concrete cost, but said that it would be a "minor fix."
And that's just for peak periods, which have the highest ridership and tightest capacity constraints. But outside of rush hour, the subway has a virtually unlimited supply of excess track and train capacity. Aside from periods when the tracks need to be worked on, the MTA should have no problem keeping up with the L's much-touted night and weekend ridership.
Mr. Ortiz also emphasized that these capacity issues are much further down the line than Two Trees' Domino project. The L's excess capacity is measured in the tens of thousands of riders per day, while Jed Walentas is only looking to add 2,284 new apartments to the waterfront—apartments that will be as close to the Marcy Avenue stop on the J/M/Z as they are to the Bedford Avenue L.
As for Mr. Walentas's planned office space, it will be essentially "free" from a transit capacity point of view. Workers coming in via Manhattan will have roomy reverse-peak trains all to themselves, and workers arriving from farther out on the L will disembark at Bedford Avenue, before the most congested segment between there and Union Square.
Two Trees also plans to incorporate a new ferry landing at the southern end of their site. But the ferries, though pleasant, are little more than a rounding error compared to New York City's subways. Luckily for Williamsburg (and its developers), there's plenty of train capacity left before people have to take to the water.