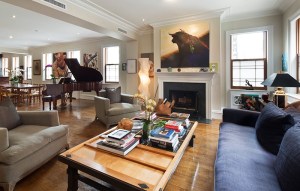 Tribeca and townhouse are not generally two words that are found in any close proximity. The district's cobblestone streets are edged by multi-million dollar lofts and, increasingly, glossy condo towers. The rare townhouse that finds itself with a Tribeca address could hardly be blamed for trying to take full advantage of the situation. Such was the case with 452 Greenwich Street, which made a splashy market debut last June asking $24.5 million.
The house may have gotten a little above its four stories. Now, it is back on the market with a new broker—Brown Harris Steven's Paula Del Nunzio—and a more modest ask of $19.5 million. (The Observer was disappointed to learn that it is still not in our price range.)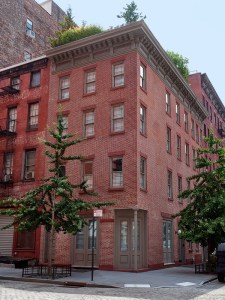 If owner Sean McCarthy gets $19.5 million for the townhouse, he will still make out marvelously, given that city records show he paid $5.65 million for the property back in 2003. But the house has had a massive renovation. Moreover, it has a history of rapid appreciation, selling first in 1998 for $499,000, then again in 1999 for $1.5 million before Mr. McCarthy bought it.
Built in 1819, the house has no doubt seen many renovations and reimaginings over the years (indeed, it was the second owner, William B. Howenstein, who was responsible for raising it to a four-story residence). In the early 1900s, the ground floor housed a restaurant.
These days, it retains some old-fashioned details, like wood-burning fireplaces and a billiards room. But basically, the place is fully-updated, super-deluxe 25-foot single-family townhouse with a chef's kitchen, Crestron-controlled surround sound, a 1,200-square-foot teak rooftop garden and a 2,500-bottle cedar wine room. Currently, it's set up as a six bedroom with four full and two half-baths.
And while some might prefer their townhouses to be nestled in a block with other townhouses (the Greenwich Village look), 452 Greenwich has some distinct advantages: namely, a single-car garage with a legal curb cut.
kvelsey@observer.com