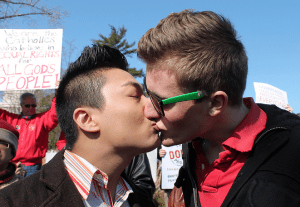 Typically, the words DOMA, Prop 8, and SCOTUS don't exactly get you in the mood, but they seem to be causing a swooning sensation in Washington D.C. over the past few days.
TPM spotted an influx of nervous lovers in Craiglist's Missed Connections section for Washington D.C. Several romantically inclined people are posting messages in hopes of moving their lengthy debate sessions from the Supreme Court steps to more personal chambers.
But one local gay marriage advocate caught our attention: 

Eric and your husband (sorry I don't remember your name too!), you were wearing matching red and blue "wedding harnesses." we talked forever (a lot about Prop 8 and DOMA) and you guys seemed very cool. Let's keep in touch!
We're just doing our civic duty here.