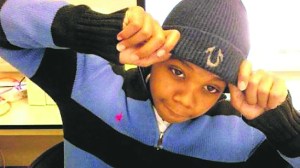 Walking east along Church Avenue from Nostrand last Thursday afternoon, The Observer counted two police officers on every corner. At New York Avenue, there were five cops and two squad cars. From a row house just past East 35th Street, three men in bulletproof vests and black topcoats emerged. And once we reached Albany Avenue and saw the Police Department's outsized Communications Division Command Post vehicle, we stopped counting.
"We're kind of used to it," one man told The Observer. "In neighborhoods like this, there are always cops around. It's just more now."
More, of course, because of the controversial killing of 16-year-old local Kimani Gray, who was shot seven times late the previous Saturday night by two plainclothes officers after allegedly drawing a weapon, and because of the subsequent nights of demonstrations, which resulted in instances of looting and dozens of arrests.
"It was terrible last night—the crowd, the stone throwing. I haven't seen anything like this," said Junior Harrison, owner of Island Pride restaurant. "I thought it was L.A. for one minute. It's getting worse every day."
Mr. Harrison remembered Mr. Gray as "nice kid" from the neighborhood. "All the kids around here, they always eat here," he said, standing outside of his store near East 54th Street, less than a block from the vigil site. "The same day he passed away, he had his meal here. I'm going to miss him. He's a good kid, from my point of view."
Near where he was shot, a poster hanging in the window of a hardware store called for an independent investigation into the shooting. Inside, there were three men sitting on overturned paint buckets. Asked about the incident, the man in the middle took off his Twin Towers ball cap, scratched at his skull and said, "I don't know what you're talking about. I have nothing to tell you."
A variety of media reports have blamed outside agitators for stirring up the community's emotions. While there were a variety of non-locals at the scene of the vigil even when The Observer visited it, at 4 p.m. on Thursday, it was clear that the community's emotions were real.
"You can't just take a life!" said the proprietor of an event hall called Extreme Elegance, who declined to give his full name, as we walked with him back down Church Avenue.
"Right now, if I have a problem with you, I wouldn't call the police," he continued. "People come inside here and rob me, and I would never call the police. Never!"
"Eleven shots!" chimed in Kevon Julian.
"He got hit seven times, but they shot at him 11. These kids, they're terrible. But they get older. To me, they targeted him. Out of the crowd, they see him. They know what he's about, and they said he had something, but he really didn't have anything that day."
A group of young teens stood staring at the posters around the neighborhood, which held grieving testimonials to Mr. Gray's short life, until one said, "I'm out, son. I can't see this kid anymore," while two reporters shoved mics into another young resident's face and grilled him about Mr. Gray.
"He used to do a lot of bad stuff," the subject said.
"Were you afraid of him?" one of the reporters asked.
"No."
Community organizer Shamar Thomas, who rose to YouTube fame with his video "1 Marine vs. 30 Cops," in which he beseeches police officers to stop physically harming members of the Occupy movement, implored others to be constructive.
"We have to channel the anger," the Brooklyn resident said. "Everyone is out here egging it on. But going to jail, messing with the cops that are right here. These ain't the killer cops. We yelling at the regular motherfuckers that are on the street. Organizing is our only weapon. Unity is our threat."
And then, on cue, Mr. Thomas broke away to calm down a middle-aged man who was not a local and was getting himself very riled up.
"They cornered us into a little group," the man said, reliving the previous night's demonstrations. "It was like hundreds of us on top of each other, the way they locked us down. You couldn't breathe … Then they started arresting the young ones. They threw me against the wall a few times. I didn't understand. Grown-ups were getting thrown against the wall and they wasn't getting locked up."
Ostensibly all these demonstrations were for Kimani Gray—whom one resident described as "a hood star"—but they were rooted in long-standing tensions between residents and police. Many at the scene of the vigil were wearing anti-stop-and-frisk buttons.
"I don't like how cops pull over black males for no reason. They don't stop—no disrespect—white males. And then when kids die, people think it's not a big deal," said 13-year-old Iziah McPhatter, who hails from Downtown Brooklyn but was here with his twin brother and his father, a former Bloods gang member who founded an organization called Gangstas Making Astronomical Community Changes, or GMACC.
According to Mr. Harrison, it's important for the community to have some closure. "They know what they're mad about—it's about the shooting," he said, before adding, almost rhetorically: "Where do we go from here?"