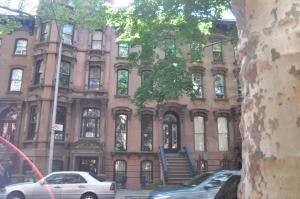 "I made my career on films that probably shouldn't have been made, economically," production designer Mark Friedberg once told Capital New York. Either things have recently changed for Mr. Friedberg or he was being awfully humble: his movies might not have made sense economically, but they made enough for him to make what appears to be a record-breaking townhouse buy.
Mr. Friedberg and his wife, Lydia Pilcher, just picked up a three-story brownstone at 32 South Portland Avenue for $3.75 million, blowing past the record 181 Washington Park, which sold last spring for $3.28 million.
As for whether or not it's an all-time Fort Greene record, we got differing opinions, though it's certainly more expensive than any brownstones we could find. "It may not be a record if you take into account a couple of the more mansion-y type properties," said Brooklyn broker Deborah Rieders at Corcoran, who was not involved in the sale, "but it's definitely a very high price" for the neighborhood.
New York City real estate data guru Jonathan Miller, on the other hand, said that it was the highest sale he had in his database of one-, two-, and three-family home sales. He did, however, leave open the possibility that someone had bought a building with four or more units and turned it into a more expensive single-family mansion.
So is it a record? We're going with definitely probably.
Mr. Friedberg and Ms. Pilcher's new definitely-probably-record-setting home doesn't look onto Fort Greene Park like 181 Washington, but it does sit on what what Time Out New York once called the best block in the whole five boroughs: South Portland Avenue between DeKalb and Lafayette Avenues. And of course, Fort Greene will never let us forget that it is, statistically speaking, the best neighborhood in Brooklyn.
The 4,000-square foot, 20-foot wide foot home was not publicly listed, though its one-bedroom garden apartment was rented out in late 2011 for $2,375. With a beautifully renovated modern interior and private washer/dryer in the basement, we can only imagine what's in store upstairs.
Ms. Rieders said that it was not unusual for expensive homes in the neighborhood to trade hands privately, without a broker. "Most of the people who sell over there are well-known people in the creative industries," she said, and "there are people who wait for certain blocks in Fort Greene"—South Portland Avenue chief among them.
And the buyers and sellers are nothing if not creative. Mr. Friedberg worked with Wes Anderson on the set of The Life Aquatic and The Darjeeling Limited, and Ms. Pilcher, his wife, founded Cine Mosaic, an independent production company. Christina Zimpel was once the art director for Vogue Australia, and she sold the house along with her photographer husband Patric Shaw.
As for the home's title as priciest in Fort Greene, it may not be long until the record is smashed to pieces—last year David Salle put his massive townhouse/Masonic Lodge combo at 81 Hanson Place on the market for an eye-popping $10 million. But, as any broker or 4-year-old child knows, asking is not the same as getting.