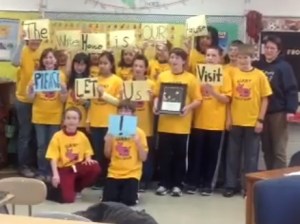 A group of sixth graders from St. Paul's Lutheran School in Waverly, Iowa has turned to the internet to save their school trip to the White House. The children were scheduled to tour the White House on March 16, but their visit was cancelled yesterday along with all other tours of the presidential residence due to "staffing reductions" caused by the so-called "sequester" budget cuts that took effect last Friday after lawmakers failed to make a deficit reduction deal. In an effort to muster support and salvage their trip, the school posted a brief video on Facebook featuring a plea from the children.
"The White House is our house, please let us visit!" the sixth graders say in the clip.
According to Christi Line, the principal of St. Paul's Lutheran, the trip is a "big event" for the children, who are in their final year at the private, Christian school.
"This is our first White House trip and we'd hoped to make it an annual event," Ms. Line told Politicker in a phone call this evening. "This is a new capstone project that we have initiated this year for our sixth grade."
Ms. Line said a parent of one of the students was working to plan the tour. Requests for White House tours are generally processed through the requester's congressional representative. According to Ms. Line, the children were first told their request had been accepted and then cancelled this morning leading to widespread "disappointment" in the class.
"It was kind of a good news, bad news thing. we just found out that our tour had been approved and, of course, we were finding out at the same time that they were not doing White House tours now," said Ms. Line. "Students had been hoping that we would be accepted for a tour. Our trip was coming up in just a couple of weeks and we knew based on when we applied for that that we would find out sort of at the last minute with just a little time left. So, we had been waiting every day to hear."
Ms. Line said the Facebook plea was proposed by the parent who tried to plan the tour. She stressed it was simply an effort to salvage the tour for the children and "not a political statement." As of this writing, the White House Press Office has not responded to a request to respond to the children's video.
"We were absolutely adamant that this not be a political issue for us. This is not about politics for our students, this is just about wanting to have the opportunity to visit the White House. One of the reasons we chose Washington D.C. as opposed to Chicago or St. Louis or some place else for our capstone trip was that it's the kind of trip that not every family has the ability to take on their own," Ms. Line said.
Ms. Line described the D.C. trip as a chance for the students to "find out more about how the government works," to "extend their learning in the classroom about American history" and to learn more about "how they can live out their lives to make the world a better place." Though the sixth graders won't be able to visit the White House, Ms. Line said the school was not canceling the field trip and that the students would visit other landmarks, including the U.S. Capitol, where House Speaker John Boehner has vowed public tours will continue in spite of the "sequester" cuts.
"We will still go to D.C.," said Ms. Line. "We are not canceling our trip because the White House tour will not be accessible to us."
Update (3/7/13 6:57 P.M.): White House Press Secretary Jay Carney responded to the sixth graders' video in a briefing with reporters today and described the situation as "extremely unfortunate," but unavoidable.