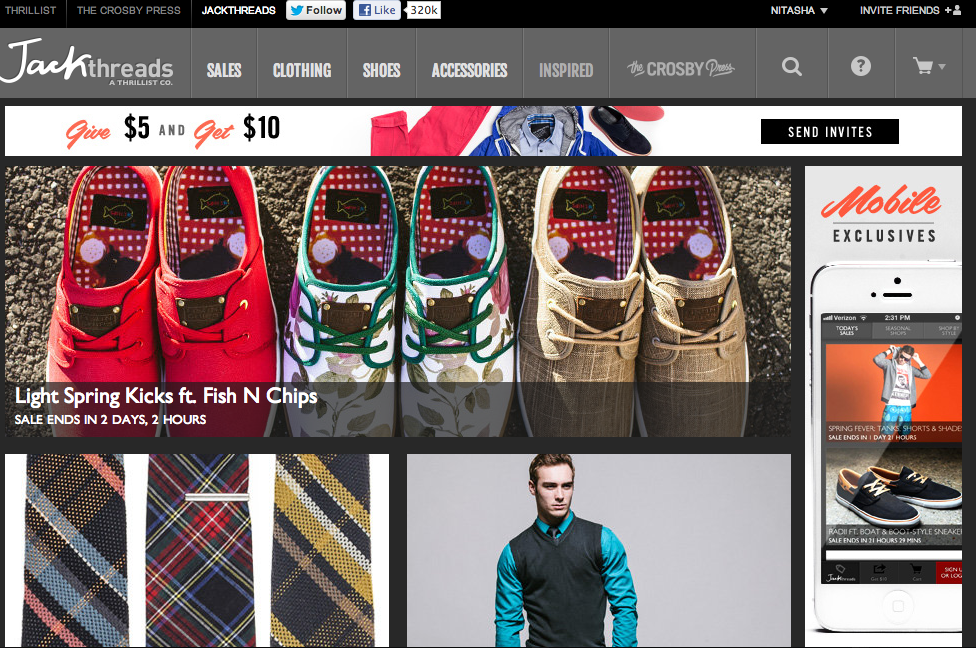 If there were a word cloud for recent ecommerce reports, it would be shaped like a mushroom cloud with "over-hyped" "implosion," "froth," "down rounds," and "suck it, America, Europe does it better," all in extra large font.
So we weren't expecting to hear that JackThreads, the men's ecommerce site acquired by Thrillist in 2010, had its best revenue month ever in February, even bigger than typically high-selling holiday months. Growth in new members was up 366 percent year-over-year and double the growth in number of new users joining in November and December of 2012.
The company also boasted the highest number of app downloads in February. Mobile revenues were triple from November, with sales from the app counting for 40 percent of JackThreads February revenue. But the most important metric–as that imaginary word cloud can attest–was the fact that JackThreads did it while maintaining its highest gross margin month ever as well.
"I can feel the heat," heat-seeking CEO Ben Lerer told us by phone, "Frankly, for a company that's seven years old, it's a little unexpected." Mr. Lerer raised a $13 million Series A last year (after growing Thrillist to 150 people on just $1.7 million). He attributed the surprising success to a number of little tweaks and improvements, rather than one magic bullet.
"You figure out make a bet and you win one, you lose one. But they all harmonically came together," he said, adding, "I don't know if that's English." Improvements were made on the website (adding a search function and boosting speed) as well as in mobile development, SEO, speed of order fulfillment, greeting customers the right merchandise when they arrive on the site, better photography, and buying deeper into certain categories.
One popular item seen around the upwardly mobile men of Soho? A seasonally appropriate "ninja hoodie." Rebrand it as a snuggie for your neck and Betabeat might consider throwing down for a few.
Of course, if there's any niche that's getting beat up worse than ecommerce, it's digital media, i.e. the Thrillist side of Mr. Lerer's business. But he brushed off concerns that Jackthreads gains means that he'll eventually be running an ecommerce company, rather than a "media group."
"The lifetime value of a user," he said, "is monetized through both media and ecommerce. Ultimately, it's going to mean a larger audience for our advertisers to reach as well, but that doesn't work in real time." They're sure trying. Register for JackThreads and you'll get a pop-up noting the city you're in and wondering if you'd like to sign up for relevant recommendations from Thrillist.
We asked the ever-amiable Mr. Lerer why he thought there was so much skepticism about ecommerce recently. "There has been a tendency online for ecommerce companies to buy revenue," he replied. Companies like Gilt Groupe and Fab.com, he said, have spent a lot on marketing. The idea is, "I can make no money on my users, but they can buy a whole lot of stuff from me," he said, noting, "You don't raise $150 million to put it in the bank. You raise it to spend it." Only after they scale does the focus turn to making money. "Gilt is an example of that. I think Gilt will pull it off, but not without some pain to get there. And Fab is on a similar trajectory."
Mr. Lerer opted against that route. "Maybe we were wusses," to try growing a more comfortable clip rather than aim to be an industry leader, he said, but, "our margins feel a lot more like businesses that are private label than companies that are also selling large quanitifes of third party goods." Despite unintentional misses, like early foibles running a shipping promotion without understanding how it might impact margin, "We don't give the store away."
JackThreads has evolved over the years from its target 18-to-24-year-old demo, he said, and been able to sell at a higher price point, incorporating more athletic brands and tailored items. "Our users are a little bit less price sensitive and a lot more focused on curation and brand discovery," he said. "If you're gonna be known for being super cheap, you better stay super cheap." You can find Self-Edge denim on JackThreads, but at the same time, they're not selling $250 pairs of jeans.
Mr. Lerer said JackThreads recently did a sale on vintage Patagonia items and is incorporating more home goods. "But without the Gilt approach of: JackThreads Home! JackThreads Taste!"