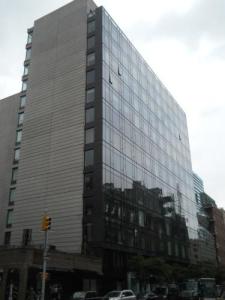 All the shame that James Frey endured when his non-fiction memoir on addiction was revealed to be largely manufactured may have hurt his byline, but his bottom line is doing just fine: he and wife Maya have unloaded their third-floor combination condo at 505 Greenwich Street for $3.9 million according to city records (a trustworthy source).
The couple picked up the two units in 2005 and 2008 for a combined total of a bit more than $3.5 million, combining them into one enormous 2,800-square foot four-bedroom.
The condo contains an obscenely large 40-foot by 23-foot living room, more than big enough to gather your closest friends and family and break the news to them that your memoir was mostly fabricated. But then, they probably already knew that.
We're not sure where Mr. and Mrs. Frey are headed—they haven't picked up any new homes in New York City lately, at least under their own names, and we weren't able to reach Mr. Frey for comment. Not that we could believe what he would have told us anyway.
But given Mr. Frey's recent rebound (he's written a couple of novels—marketed as novels—since the Million Little Pieces fiasco), we're guessing it's somewhere nice. Maybe Los Angeles? Back in 2010 Mr. Frey told the New York Post that he was working on an hour-long drama with Mark Wahlberg for HBO about the pornography industry.
"We're going to tell the type of stories no one else has told before, and go places no one has gone before," he said. "Very private places, we imagine." (Perhaps the master bedroom at 505 Greenwich, overlooking the building's zen garden?) Or maybe he'll stay a few nights at Chateau Marmont, but tell everyone he's actually moving in for the next three months?
The buyers, Kenneth Rapp and wife Michelle, should be familiar to those who follow New York real estate: Mr. Rapp is a vice chairman at commercial real estate brokerage CBRE, where he's been since 1988. He was unavailable for comment. But we wish him luck with his new home—may he only be brought to Oprah's couch for good things, as the ancient Chinese proverb goes.