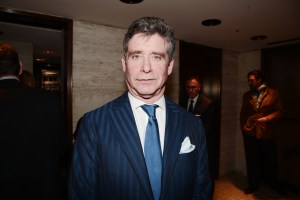 "I don't know where you got that idea," Jay McInerney scoffed at The New York Observer at our 25th Anniversary Party last night at the Four Seasons. "I am not writing a book about The Great Gatsby." We were baffled; we were sure that we had heard that the Bright Lights, Big City author was busy creating a modern adaptation of the famous F. Scott Fitzgerald novel, set in the Hamptons.
"Are you sure?" We prodded.

"Well," he amended. "In the sense that most [stories] are The Great Gatsby, then yes, I'm working on a book that's like The Great Gatsby." Currently involved in several projects–both fiction and non–the author cited Fitzgerald as a major influence on his (and most people's) writing style. He also mentioned that he had once spoken in a PBS documentary about Fitzgerald. Not mentioned was the fact that he has written on the subject several times, or that his novel The Last of the Savages was once compared to Gatsby by The New York Times. (You can see why we'd be confused.)
"Is Brightness Falls also The Great Gatsby?" We joked.
He laughed. "Sure … no, no. Maybe it is."
And before we could ask if he saw himself as more of a Gatsby or Carraway, he had switched gears. "So, what do you think of that Baz Luhrmann adaptation?" he asked, referring to the summer release of The Great Gatsby movie.
"Oh, every generation has to have its own Gatsby," we replied. "Ours just involves more Kanye West music."