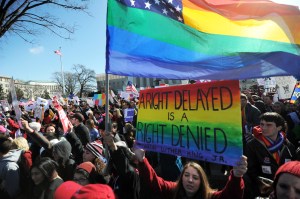 Manhattan Congressman Jerry Nadler's constituent, Edie Windsor, is the plaintiff in the Defense of Marriage Act's U.S. Supreme Court case, and Mr. Nadler says he couldn't be pumped for the ultimate outcome.
"I am thrilled to be able to take part in this historic day," Mr. Nadler said in a statement announcing his intention to attend U.S. v. Windsor's opening arguments tomorrow. "Our constitutional commitment to equal protection of the law requires more; that we treat all married couples with the same regard and respect. DOMA fails this simple test, and I am hopeful that the Court will strike down this shameful law and send it into the dustbin of history where it belongs."
Mr. Nadler is the lead sponsor of the House legislation to repeal DOMA, the Respect for Marriage Act, and according to his office, "helped spearhead the Congressional amicus brief filed with the Court in support of his constituent, Edie Windsor."
Ms. Windsor, now 83, was engaged to her partner, Thea Spyer, for 40 years before marrying her in Canada in 2007. When Ms. Spyer died in 2009, the Internal Revenue Service was prohibited from treating her as a surviving spouse, costing Ms. Windsor hundreds of thousands of dollars in state and federal estate taxes. Her case, along with another on California Proposition 8's constitutionality, is being closely watched by the national media.
Some reports have suggested the Supreme Court is unlikely to end up issuing a sweeping ruling to legalize same-sex marriage in the United States.