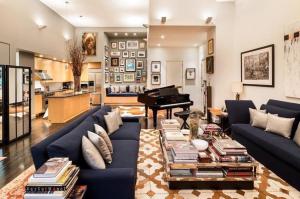 Kenya may have plenty of villages, but it doesn't have the Village. And so Joseph Schwartzman, managing director of East African engineering and construction conglomerate H. Young, and his wife, Hannah, had to come all the way to New York City to get a slice of Village life.
The couple just closed on a one-bedroom apartment at The Greenwich, a condo building at 65 West 13th Street, paying $2.5 million, according to city records.
The unit was sold by John Barrett, who runs an eponymous salon out of Bergdorf Goodman's Fifth Avenue location. He has been trying to sell the apartment, which he picked up in 2004 for $1.4 million, since 2011. It took a few years, a $200,000 price cut and a brokerage swap, but he finally sold it this month with the help of Corcoran's Ric Swezey and Rob Jackson.
The buyers' primary residence is in Muthaiga, a posh suburb a few miles north of Nairobi, and Mr. Schwartzman is no stranger to Kenyan politics. The construction magnate was named in a document, pilfered by WikiLeaks, as a business associate of notorious Kenyan politician Nicholas Biwott. Mr. Biwott, often painted in the press as hopelessly corrupt, was accused by a Scotland Yard investigator of having a hand in the 1990 murder of Kenyan Foreign Minister Robert Ouko, and was a close associate of former Kenyan strongman Daniel arap Moi.
The Schwartzmans have also made a cameo in American politics. During a bizarre chapter in John Kerry's 2004 campaign for the presidency, former intern Alex Polier was accused—falsely, as it turned out—of having an affair with the senator. As she was dating Mr. Schwartzman's son Yaron at the time, she hunkered down at the family's Nairobi compound until the storm blew over.
Should the Schwartzmans decide to harbor any scandal-tinged former interns in the future, their generously proportioned second-floor home at The Greenwich should do the trick. Though it is currently configured as a one-bedroom, the dining area could easily be converted into a second bedroom.