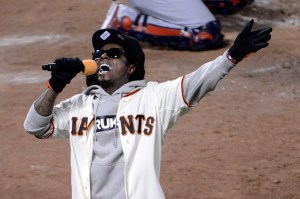 Lil Wayne (Dwayne Michael Carter Jr.), the hip-hop artist whose album I Am Not a Human Being II dropped on Tuesday, has had a pretty terrible month. Two (or possibly three) seizures in row left him in critical condition in the ICU at Cedars-Sinai Hospital in a medically-induced coma on March 13. He was released five days later, but the episode left many wondering if Mr. Carter would actually be able to go on tour for his new album.
But according to Mr. Carter, this isn't the first time he's suffered an epileptic seizure. And it has nothing to do with drugs. So he says.

Yesterday Mr. Carter told L.A.'s Power 106 that this was pretty much business as usual. "Like, this isn't my first, second, third, fourth, fifth, sixth, seventh seizure. I've had a bunch of seizures, y'all just never hear about them."
So … no big deal? Lil Wayne doesn't seem to think so:
[protected-iframe id="26bd2822762cf4cac5ba77ab7162cc75-35584880-45677482″ info="http://cdnapi.kaltura.com/index.php/kwidget/wid/1_xancbik4/uiconf_id/6740162/st_cache/62435?referer=http://www.tmz.com/videos/0_s5n00np9&" width="640″ height="360″]
So, tour is still on? So maybe not that big of a deal. But as he told the radio station, it is kind of of a big deal:
"But this time it got real bad 'cause I had three of them in a row, and on the third one, my heart rate went down to like 30 percent. Basically, I could've died, so that is why it was so serious."
Remember, this all occurred during Mr. Carter's (alleged) enforced sobriety.
Conclusion? Jesus, Lil Wayne. Take care of yourself, Weezy! Especially now that you're more popular than ever, thanks to your hospital visit.