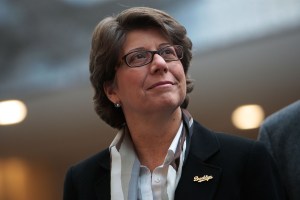 A Daily News headline declares that an elevator at a Long Island Rail Road stop in Woodside, Queens, is "constantly breaking down on account of urine."
Apparently people are peeing on this thing all the time, so often that LIRR President Helena Williams has labeled it a "vertical urinal," the News reports.
This is, of course, a huge problem. But what is perhaps more surprising about this story is that the Daily News deems the word "piss" unpublishable.
"The elevator is always full of p———," Jason Laguer tells the News. "I take the stairs, it's just nasty, man."
Maybe Mr. Laguer wasn't saying "piss," but we can't think of any other four-letter synonyms for urine that start with p.