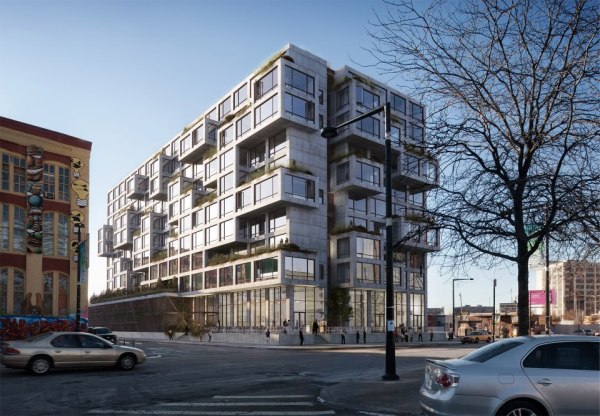 Long Island City architecture, though respectable (The Observer appreciates the relative paucity of façade-ruining PTAC air conditioning grilles in new construction), is not exactly what you'd call edgy.
ODA Architecture would apparently like to change that. Far from the towers on the waterfront, it appears that the New York-based architectural practice is working on a project on Jackson Avenue, across the street from MoMA PS1 and the graffitied 5 Pointz building (which is not long for this world). Details on the project are scant—the woman who answered the phone at ODA was surprised by this reporter's call, and pointed out that the project is not on the firm's website—but BuzzBuzzHome has dug up a rendering on Facebook, posted by ODA principal Eran Chen two weeks ago.
The design is in line with ODA's signature boxy style, most famously employed at 15 Union Square West, but also at 316 Bergen Street, a project in Boerum Hill at the corner of Third Avenue. It is, however, a bit more adventurous: it has a number of cubes bulging out of the façade, which reminds us of a toned-down version of MVRDV's Cloud tower planned for Seoul (but without the overtones of 9/11). There's also something of a brutalist undertone softened by the large glass windows.
Unlike 316 Bergen Street, though, ODA's design in Long Island City won't be marred by a ground level parking garage—or at least it won't have to be marred by parking. Long Island City, unique among outer borough neighborhoods (hear that, downtown Brooklyn?), does not require developers to build parking with their projects.
Judging by the rendering, the plot in question appears to be on the southwestern corner of Jackson Avenue and Crane Street, which currently houses a one-story industrial building with a sign that says "International Delights." The zoning allows for 125,000 square feet of development as of right, but The Observer was not able to determine the identity of the developer of the project—though we will update you when we know more.