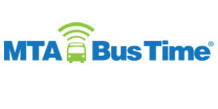 Philadelphia bus riders got real-time tracking in 2011. Chicago's had it since at least 2009, as has Washington, D.C.
Staten Island riders and those in the Bronx have had Bus Time, as the MTA calls its real-time bus tracking tools (and that's trademarked, so back off, other cities!), since 2012, as have a small handful of routes in Manhattan, Brooklyn and Queens.
But now, the MTA is announcing, we have dates for the rest of the network. "Bus Time is so helpful to our customers that we have scheduled an extremely aggressive timetable to introduce it to three other boroughs," wrote Fernando Ferrer, the MTA's acting (and reluctant) chairman in a press release issued today. Manhattan buses will be getting the technology by the end of the year, according to the release, followed by Brooklyn, and then finally Queens, where it will be completed by April 2014.
As it is now, most New York City bus riders can only rely on published schedules, which are often next to useless, due to the vagaries of traffic, lights, passenger boarding times and bus bunching. (From our perch on Ocean and Church Avenues, The Observer has noticed that the B35, for example, come not at all or all at once.)
While Bus Time won't fix any of this—we aren't aware of any plans the MTA has to extend Select Bus Service-like features, such as off-board payment or traffic signal priority, to the agency's formidable fleet of local, express and limited service buses—it will make it easier for New Yorkers to deal with the uncertainty.
And in an email to The Observer, Second Avenue Sagas blogger Ben Kabak pointed out another aspect of the plan: "It should both increase bus ridership, but also remind riders just how slow and unreliable local bus service is."
"Without a commitment to real innovation from [the Department of Transportation] and the MTA"—that is, faster fare payment systems, signal prioritization and physically separated lanes—"we'll take what we can get."