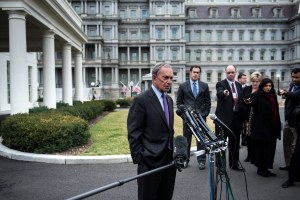 At midnight tonight, a bevy of steep spending cuts will hit the federal government unless Congress and the White House agree to an alternative deficit-cutting proposal. Although the national media has been relentlessly focused on this deadline, Mayor Michael Bloomberg said it will only affect New York City if the so-called "sequestration" continues for a significant length of time.
"It depends on how long," Mr. Bloomberg said on his weekly WOR radio show with John Gambling. "If it lasts a few weeks, no. If it does, yeah. We get 10 or 12 percent of our budget from the federal government, not all of that is going to be cut back, but there would be effects–not good effects. But in the context of, 'Is anything going to change tomorrow? Are we going to run out of money tomorrow?' I'm sure I'll get that question at the [next] press conference. No."
Furthermore, while saying the federal deficit does indeed need to be curtailed, Mr. Bloomberg argued the United States could owe "an infinite amount of money" and there is no specific amount that would cause the country to default.
"We are spending money we don't have," Mr. Bloomberg explained. "It's not like your household. In your household, people are saying, 'Oh, you can't spend money you don't have.' That is true for your household because nobody is going to lend you an infinite amount of money. When it comes to the United States federal government, people do seem willing to lend us an infinite amount of money. … Our debt is so big and so many people own it that it's preposterous to think that they would stop selling us more. It's the old story: If you owe the bank $50,000, you got a problem. If you owe the bank $50 million, they got a problem. And that's a problem for the lenders. They can't stop lending us more money."
Nevertheless, Mr. Bloomberg said it wouldn't be easy to find the spending cuts that do emerge. Accordingly, when Mr. Gambling suggested cutting "waste" could solve a significant portion of the deficit, Mr. Bloomberg flat-out disagreed.
"Listen, I've worked now in government for 11 years," he said. "One of the problems is the definition of 'waste.' You think the programs that I want are waste. And I think the problems that you want are waste. It's not like somebody is taking wheelbarrows full of dollar bills and throwing them out the window. It's a question of definition, what is 'waste' and what is not. Everything we have was put in by Congress, signed by the president. There was a reason for it or a constituency for it. Most of the tax breaks are designed to encourage or discourage economic activity. There's a reason for it."