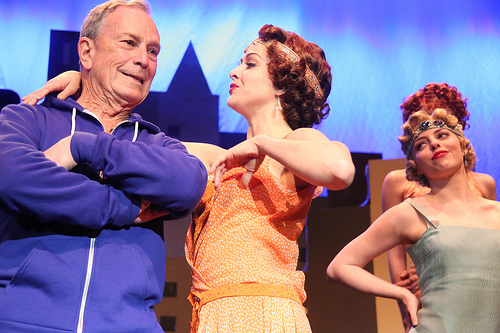 Yesterday was Mayor Bloomberg's final Inner Circle dinner, an annual gathering of politicos and a chance for the city's chief executive to indulge his inner vaudevillian. Every year, the mayor participates in a parody of a popular Broadway show, recapping the year's events.
This time, though, Bloomberg went a bit over the top. The New York Times reports that he hired (with his own money) the casts of several Broadway musicals to lend a hand. And perhaps as a nod to his role as Godfather to the New York tech scene, he traded his usual slacks for jeans and a blue hoodie (perhaps the gift from Yext?).
"Bloomberg. Zuckerberg. No difference," the Times quotes him.
But donning the developer's uniform wasn't the show's only reference to the city's startup scene. The show also included a bit where pastel-clothed flappers from Nice Work if You Can Get It each identified themselves as a particular tech company, culminating in "Tumblr" cosying up to the Mayor. "Lean in," he responds. "That's what Sheryl Sandberg says."
There's video, in case you've ever wanted to hear the mayor belt out "Tomorrow":
[youtube http://www.youtube.com/watch?v=aKgKYjanwS8?list=UUIxapChazpLOEZQa2X353Aw]